The Divine Beauty- Discovering Siena. Every year from July to September, Siena offers you a unique show: we are talking about the so-called Divine Beauty- Discovering Siena. It is a cultural experience concerning the cathedral and the city of Siena. In particular, the project has been organized by the Municipality of Siena and the Metropolitan Opera in collaboration with Filmmaster Events and Opera Group Civitache.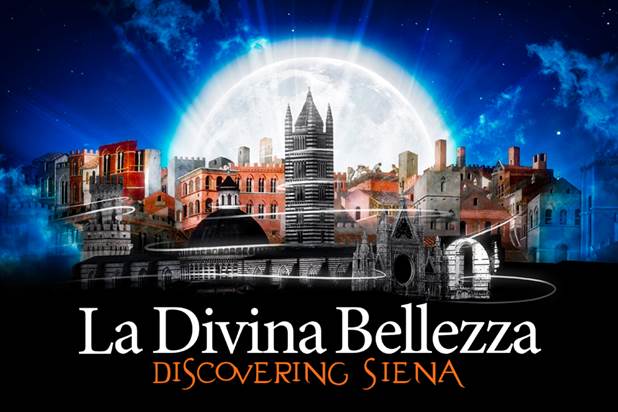 Spectators can assist at a videomapping on 3D projected directly on the cathedral. Everything will be accompanied by lots of technology that will allow you to project on 800 square meters of surface images of huge dimensions. The show is divided into five acts and has the purpose to tell about the Siena history, the cathedral and also to tell the story of the city, its places and its people. The story will talk about the transition from the Middle Ages to the Renaissance, the tragedy of the Black Death that struck the city of Siena in 1348.
The show will take place every day of the week in Piazza Duomo in Siena, from July to September, with two projections in the evening, after sunset, every day from 24 July to 30 September 2015, except for the period from 13 to 16 August. You can attend two performances daily of half-hour at 21.15 and 22.15.
The ticket price is 13,00 Euro, 8.00 for children 7 to 11 years, for students up to 26 years with a valid student card, journalists and publicists. It is free for children under 6, the disabled, tourist guides and interpreters in the province of Siena.
You can buy them at a fixed price of 35.00 Euro for families composed by two parents and up to 4 children.
With 22.00 Euro you can takethe combined ticket with the OPA SI PASS. Tickets can be bought directly from ls Ticket in Piazza Duomo and in stores Ticketone or online on ladivinabellezza.com, operaduomo.siena and ticketone.it.
Have good time and enjoy with the Divine Beauty made in Siena!!!
Borgo Grondaie at only 2 km from Siena City Centre is the ideal location for visiting town.
Visit our website to get the best offer ever!