The passions…
If  it is true that the passions rule the world and the land of Tuscany and Siena's territory are known to create great passions in the hearts of those coming to visit us. One of all … the wine!
Source: www.intravino.com
The true lovers of wine are familiar with the rules governing the wine with the name " Chianti Classico" 
For all others who are passionate about wine, as we are in Borgo Grondaie, but that are not involved in the daily production of what is called the "nectar of gods", let us introduce you to some of the rules that make the wine a "Chianti Classico" D.O.C.G. (controlled designation of origin guaranteed)

For example do you know that Sangiovese grape is the real soul of Chianti Classico: typical of these areas , the Sangiovese grapes more than any other is able to represent the characteristics of the ground where it grows succeeding to lend the grape aromas and flavors that send you back to areas of origin ( as a floral bouquet refers to the sandstones , the aroma of berries to the limestone and the smell of fresh tobacco to tuff ) by maintaining the scent of violets that characterizes this incomparable wine.

Along with Sangiovese, other red grapes can be present in a maximum of 20 %,  , such as Canaiolo and Colorino , and those "international" , such as Cabernet Sauvignon and Merlot, recommended and / or authorized in the production area .
Among the major organic characteristics are: the ruby color that can sometimes become intense and deep , the scent with floral notes combined with the typical character of red fruit, the smooth taste,  the minimum alcohol content of 12 degrees for the young wine and 12.5 degrees for the reserve , the minimum dry extract content of 24 g/l and the total acidity of not less than 4.5 g/l.

Production factors : the yield of grapes per hectare may not exceed 75 quintal  after 4 years from plant and the yield of grapes into wine can not be greater than 70% , which is 52.50 hectoliters of wine per hectare. In addition, the operations of winemaking and bottling must take place exclusively within the production area and the authorization for home consumption is permitted from the 1rst October subsequent to grape harvest. For the Reserve is mandatory an ageing minimum of 24 months , of which at least 3 of aging in bottle.

Also with regard to the label . The label must indicate " Chianti Classico" with the specification of " Denomination of Controlled and Guaranteed Origin " , one of the most prestigious awards for Italian wines , and highlight the year of production of the grapes.
Wine is the poetry of the earth, Mario Soldati writer and director
Likes
(

1

)
Dislikes
(

0

)
A meeting that opens the new summer season : Siena Ultramarathon 2014. For those not involved in running an Ultramarathon is a race that exceeds the mandatory distance of 42,195 km of a marathon. Siena Ultramarathon will develops its 50,200 km route through some of the most beautiful Tuscan landscapes, with positive altitude of 600 meters. 15.600 km will be of dirt road with  breathtaking views . The departure will be from San Gimignano and the arrival in the Piazza del Campo in Siena .
The route of 50 km is dedicated to those who are trained for marathons or trial . The path will unfold in part on the ancient Via Francigena and will include 10 drinks' point. .
For non-marathon runners , it will be also organized two shorter paths: one  of 32 km. starting from Colle di Val d'Elsa and one of 18 km starting from Monteriggioni .A bus from Piazza del Campo is also organized to lead you at any departure points.
The occasion will be to live a day of sport surrounded by beautiful nature as those of  Sienese countryside and the arrival in Piazza del Campo, UNESCO World Heritage Site , will be thrilling .
It will be a race to remember!
I want to dedicate this post to a friend of Borgo Grondaie who like me loves running and has a special love for Siena… Wayne … what do you think about a run overseas?
For more information please check www.terredisienaultramarathon.it
posted by www.hotelsienaborgogrondaie.com
Likes
(

1

)
Dislikes
(

0

)
The culinary traditions in Siena manifest itself in all its glory at Christmas. If you are foodies Siena is the place for you.
Our culinary traditions say that  tables have to be particularly joyous, a beautiful centerpiece is a must (my mother had made one colored with vegetables to eat later with the new olive oil ). A volcano of colors: orange carrot, white Belgian salad, red radishes, green celeries, slices of fennels, small tomatoes and small fresh onions.
We started with a self service buffet organized by the fireplace. On the table there were salty delicious cakes with onion and bacon, croutons  with Porcini mushrooms, black croutons, small pieces  with pecorino cheese on.
The first course is as always the legendary PASTA AL FORNO or LASAGNA with handmade pasta and baked in a wood oven that my father lights on  a day before to reach the right temperature in order not to  burn the dishes. Just a note: when you are in Tuscany don't call it Lasagne alla Bolognese….


Then, as my tummy was not satisfied, the second course was roast meat cooked in the wood oven: rabbit, chicken, pigeon and lamb … all with roast potatoes!
If you are still not satisfied by my story, it's time for cakes. Firstly the Sienese sweets: Panpepato (Gingerbread) – which I like more than Panforte because it's more spicy -, Ricciarelli, Cantuccini (almond biscuits) perfect for Vinsanto wine (sweet wine). Then the typical Christmas sweet  called Panettone (which  my brother takes from Milan in a artisan bakery ). At the end homemade desserts that this year were Crostata with jam,  a soft chocolate cake and a Pinolata.
We drank a Chianti Classico Riserva  and a  2010th  Montecucco Riserva  and with desserts in Vin Santo and….. Grappa that someone drinks with the excuse that it's good for digestion.
I forgot ….the coffee that at my parents' house is made only with Moka .
A busy day for the jaws but this is just the beginning because the night of 25th and 26th  we go on celebrating Christmas with relatives and friends with boiled meat and Home made green sauce, anchovy sauce and fruits mustard .
So a marathon …….
And you? What about your Christmas menu? Which is the best dish of the area where you live ?
Likes
(

0

)
Dislikes
(

0

)

Turisti per casa is the name of the guided themed  tours  that every second and fourth Sunday of the month, until February  2014 will take place in the Pinacoteca di Siena at 11 am, just before lunch . Why not to tale advantage from 20% discount that some restaurants  recognize if you show the Pinacoteca ticket
———————

Borgo Grondaie has a special love for  this museum ,  that is why we have  chosen it as the venue for the 2013 edition of the Digital Invasions  Event. In this regard there is this very interesting  post written by Dominique Papi Cipriani, a professional photographer known  at the time of the  Digital Invasion, who recounts with sincere gratitude the experience of that day.
We join with enthusiasm  this initiative, which has allowed us to investigate the origins of the  Pinacoteca collection  and become aware of curiosities related to certain works such as the Santa Petronilla Altarpiece by Ambrogio Lorenzetti and the dramatic story of the beautiful Ghismunda from Bernardino Mei .
The event is organized by the guides of Siena (Federagit) with the support of Confesercenti of Siena.
Therefore it's a pleasure to  share with you  the calendar of next visits,  time and topics and invite you to participate because it is really worth it.
Likes
(

0

)
Dislikes
(

0

)
Hats off to Siena guides association always very attentive to enhancing and promoting  Siena territory.
From November they will start a series of activities to which Borgo Grondaie would love to give prominence, with the hope that citizens and visitors appreciate the wonderful initiatives.
The first event  I want to point out, perhaps because as a mother I feel the need for activities to carry out with my son, it's remarkable.  It is to make known the floor of the Cathedral of Siena to children through the story depicted in the beautiful marble and the discovery of the characters shown.
The event is scheduled for Saturday, November 9th at 15:00  meeting point the ticket office of the Cathedral of Siena. The cost is 6 Euro per child and one adult per child has free entrance.
For more information please contact the authorized guides of Siena through their website www.guidesiena.it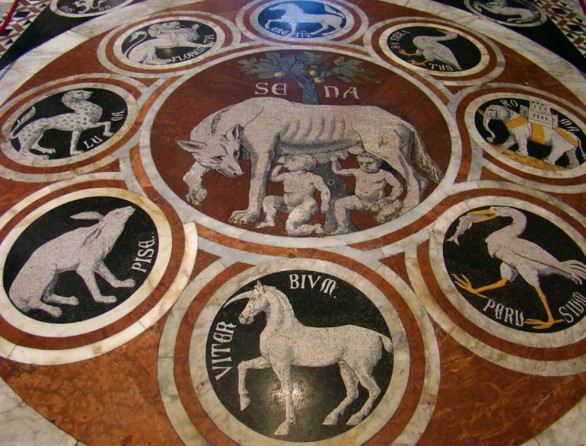 Likes
(

0

)
Dislikes
(

0

)
By chance I have taken part in an initiative, which is called Digital Invasion  #invasionidigitali, for motivating  people to enter  into the places of art all across Italy, people with cameras or even mobile phones, to shoot photos, freely, without flash, and then to put them up on social networks, like Twitter, Facebook, Instagram.
A procedure of sharing artistic images, with the speed of today's times, to make them accessible to others, maybe only an hour after having seen them, details of a painting or a glimpse of a church, a garden and a sculpture,  captured by visitors in an all-embracing bewilderment.
Once disbanded the sanctity of the Pinacoteca of Siena and the works  within, we  wander around in search of an immediate grandeur, inebriated by a bright largeness of enjoyment  like an undisciplined school-class on a tour through the silent halls.
This is invasionidigitali!
With this walk, together with others- really too few for a such  unexpected opportunity- I proceed through the halls. The organizers have provided us a descriptive text in advance , obviously through email, with the sequences and the artists.
Surprised  by this possibility and with about three hours at my disposal I get ready to observe the paintings with a different look and I cheer  up from the overcast and tedious day outside.
Being in ignorance of  art and  old masters, I approach the paintings that attract me more and that intrigue me because of interesting images and  perspectives.
Madonna' gazes so melancholic and intense enchants me. In the folds of a painting I catch sight of more figures, main characters in that component. On the predella of famous paintings there are whole stories told, like small worlds standing on their own in a wider landscape. Some bishops inspect me despotically next to gentle angels. The fixedness of their gazes offers to all visitors a recall of something different, a reflection which, however,  we hold difficulties, because nearby there is another painting which in turn gives a new demand. Among  the astonishment and the incomprehension and the admiration for such perfection and beauty, we  remain  struck and almost embarrassed  for not being able to detach our look.
The work presented here focuses on the peculiarity of the details, sections of paintings from which the color has been taken out for a pictorial reading without the amplifications of pigments. A photographic claim in light of the magnificence of these paintings, where gold is the main actor next to the carmine-red, the vermillion, the faint colors of rosy reflections in religious worlds, which tell the scenes of the holy family with stylized landscapes in the distance, locations of Siena, folks from times ago.
In this syndrome of emotional contradictions between what I see and what I feel, I think about  historians  who know these objects d'art,  their history. They have deeply studied the old masters  and  their peculiarities and first of all their distinctive trait. I admire these people, who pass their lives following their own itineraries with commitment and strictness and often lead them up to important discoveries for the understanding of the painter, to that tile which was missing for the full and definitive assignment of a master-piece, and who continue to research, analyse, study, examine pictures, read books and essays, always directed towards the appropriate settlement.
I deem myself fortunate for having lived in a family, where art was at home at all levels, and for have been able to move around easily amidst art-works of importance without anybody revealing or explaining anything to me. The paintings were there and I was there in front of them. This was a great gift that I have received and also in this way my photographical analysis of the sight was born.
Pick up what you have seen and return it, interpreted in a photography.
The Pinacoteca di  of Siena with its important works and with the stillness of its halls has allowed me to relive intensely this freedom of enjoyment.
I vividly thank those who have organized this visit, which has provided an important service for communicating art, in the most contemporary and immediate aspects, in spite of not being backed up by any historical and artistic research, it has allowed many people to get into contact with a reality that surrounds us and which remains invisible for most.
Likes
(

0

)
Dislikes
(

0

)
Siena is a land of wine and this value is recognized all over the world. Chianti and Brunello's wineries open their doors to public for tours and tastings on May 26th.
If your intention is to taste many wines remember that there is the possibility of transfers from Siena downtown and for a small rate it will allow you to taste the nectar of Bacchus without worrying about driving.
Enjoy your visit!
Likes
(

1

)
Dislikes
(

0

)
Do you know the lavender scent in full bloom? That particular fragrance that smell like summer liquorice and clean?This is scent of Borgo Grondaie at sunset.  I notice the same smell now, opening my closet door where I keep neatly placed my home linen. At this time, though here it is a gray and rainy afternoon, my thought takes off and brings me back to the summer, to the long sunny days, balmy nights at Borgo Grondaie.
Borgo Grondaie is a small, family run hotel and apartments of charm (and I mean the real charm that makes you live and love a territory in all its nuances and not the fictitious furniture from glossy magazines and completed by a punctual as much as cold and impersonal service!). Borgo Grondaie is strategically located at the entrance of the city of Siena, whose center is just a few minutes from here by car but in the Tuscan countryside. As I get some free days off from my work I love to come back to the Borgo, pick up the thread of my life and feel in peace with the world and myself. The welcome is as warm as professional. Gaia and Amina have become real friends for many of their guests: the atmosphere here is relaxed and serene, and it is easy to feel at home, among friends.
And the lavender, you say!?
Lavender has to do with my story, because Borgo Grondaie is not simply a group of comfortable rooms and airy apartments: the Borgo is also everything that surrounds him, from the little squares with tables and chairs where you stop to have a coffee or a good glass of wine, the flowerbeds, trees and bushes always well maintained, to large lawns that all year long have retained that dazzling shade of green, typical of this part of Tuscany.
The lavender bushes frame some meadows and the pool area of Borgo Grondaie, which is situated in a slightly elevated position just far enough from apartments and rooms. Here, during the day you spend quiet hours sunbathing and swimming in the cool,clear and salt water even if the real magic comes at sunset. It is when the sun starts setting on the horizon that many guests leave their sunbeds and the atmosphere becomes even quietier. The pool water, made warmer by the long hours of sun, it's tinged with shades of orange and purple, while the birds singing intensifies. At that moment I love to dive and swim slowly, leaving me wrap by water: my body relaxes in water embrace and tensions accumulated during months of work are softened in the golden light of sunset. At that time it becomes easier to feel at one with the wonder that surrounds you. Sometimes you are alone but other someone is eager to enjoy those moments of peace … then you swim slowly, basking in the water and greetings each other just with a brief mention of eyes, in order not to interrupt the magic of that moment.
When the sun disappears I'm ready to go back in my apartment, where a hot shower expect me with olive oil bath products that Gaia and Amina never forget to let me find in the apartment and that, with its delicate aroma, completes the sensory path of the day.
Day is not complete without a visit to one of the many small osterie (restautants) in Siena downtown or in the country area, because Tuscan traditional cuisine is appreciated as one of the most exquisite on earth. Personally, when I stop in the city, I love to dine at Trattoria Da Cecco, a small restaurant in Via Cecco Angiolieri, a side street of Via Banchi di Sopra, the main road leading to Piazza del Campo and the Duomo. The restaurant is small and not easy to find availability but on summers they have more space as they place tables outside: don't miss Pici in all the different toppings, but I also remember their chicken with lemon and all their pastries, including the tiramisu of the house.
But when we decide to drive to the country area the village that I love more in the summer season is Monticchiello. I leave Borgo Grondaie with direction Asciano, an area famous all over the world for its hilly road surrounded by Cipress trees. Here the landscape enchants you with ever-changing shapes and colors at any time of day and every season. It's quite surreal to drive along this lunar landscape that recall memories of Medieval time when knights crossed this land and stop to quench the thirst in one of the small lakes and plunged into the breathtaking landscape that varies at every bend of the road. The direction to take is to Pienza then, once you reach the location, to San Quirico d'Orcia valley and then to La Foce from which you drive uphill to Montichiello. The small village, situated on the brow of a hill, for years has become popular not only for its unquestionable charm but for its "poor theatre" that every year turns streets and squares into a open-air theatre and the population into a real theater company.
From Monticchiello you can admire the entire valley and hills all around and their alternation is like the waves of a green and quiet ocean . Once in Montichiello sight has no barriers and can range as far as the eyes make it possible: here, at sunset, while sky is getting red, it is time to sit a on the terrace of "La Porta "wine bar, located right next to the gate of Monticchiello.
A pleasure accessible to everybody is to enjoy the sunset with a delicious bruschetta with extra virgin olive oil and garlic, with a plate of pecorino from Pienza of different agings, all combined with a glass of Brunello di Montalcino and Nobile di Montepulciano , excellent wines of this area. It's difficult to say if it's the wine inside your glass that is asborbing the sunset nuances or if it's the sunset that becomes more and more similar to the wine. Certainly it's in this moment that you feel grateful to life.
A stop that I want to suggest you leaving Montichiello is Bagno Vignoni. It doesn't matter in which time of the year you are there, it's worth stopping and walk along the perimeter of the marvelous square-thermal swimming pool built by the Romans. Generous nature and human talent seem to have found here the perfect agreement in the construction of this incredible square-caldarium, Bagno Vignoni historic heart . While leaving Bagno Vignoni to return to Borgo Grondaie, I like to stop on the banks of the little stream of hot water that rises to the surface just outside the village, and then dive down forming pools of clear water. Soak your feet in this warm water it is possible at any season of the year, and it's great to do it at night when, raising your eyes up to heaven you get lost in the myriad of stars that shine undisturbed, away from the cities' light pollution .
Back at Borgo Grondaie, you are welcomed by the chorus of crickets and cicadas while the stinging scent of lavender rises from the bushes soaked with dew.
I hesitate a moment while closing my wardrobe and forward my mind to reality; just a breath of lavender (of course kept in bags purchased in Tuscany!) to relive the unique sensations that only this land can offer. And I smile thinking about my Borgo , a magical corner to stop and from which leave to discover this enchanted land that always welcome you with its heart and open yours where it will stay forever.
Likes
(

0

)
Dislikes
(

0

)
One thing that we always say to our clients is to follow their instinct because they are their best guide for their holidays in Siena. At Borgo Grondaie we love to give suggestions but to those who seem most curious and not at all frightened by the Italian roads and by our reckless way of driving, we suggest to become discoverers. This is because the beauty of a trip is the surprise,  not all can be planned and  written by others. You need to create your personal holiday in order to make it more emotional.
It may happen that suggestions comes from guests after their experience and discoveries as David, an Australian guest & friend, who suggested a tour in the Brunello area for a visit to Máté winery.
So my partner, my son and I enjoyed a day out in the wonderful Montalcino land. Paul, who knows wines from a professional point of view,  would have been  judge for what we were going to taste. I confess that I love wines and I love to drink wines but my palate is not so improved to the  harmonious mechanisms of wine.
At the arrival at Máté  we met Candice, owner and painter who bought the property twenty years ago together with her husband-writer, transforming their shelter-inspiration in beautiful winery.
I have written the word harmony in the title because this was the first impression entering the property. Their beautiful home surrounded by greenery and well-groomed gardens harmoniously blend into Tuscan ambiance, shows owners' respect to the place that has hosted them. Candice seems born here as she is at ease with the property. She showed us their little cellar, we spent time talking about  their vineyards and how the various types of soil presented inside their borders have influenced the choice of the various varieties apart from San Sangiovese grosso used for the production of Brunello.

Candice organized the tasting in her kitchen. The table ready with bottles, the fireplace, brick walls and the marble kitchen sink made the atmosphere surreal! Candice had prepared five of their wines. I was immediately struck by the beauty of the artistic labels while wine perfumes filled our glasses.

All wines tasted were of the highest level. They were harmonious, extremely pleasant with complex aromas, very attractive, surely loved by connoisseurs as by  simple wine lovers.
Do you want to discover more?  … Máté waits for you!
written by www.hotelsienaborgogrondaie.com
Likes
(

0

)
Dislikes
(

0

)
Yes! In Siena, we  celebrate the New Year also on March 25!
The modern calendar comes from Pope Gregory XIII 's will  who adopted a single rule for measuring time. Think about how it could be to use a different calendar in our world! Before 1582 in Siena, the New Year was celebrated on March 25 because it matched the day of the Annunciation to the Virgin Mary. On same date it took place the Feast of the ancient Hospital and  of its church which was dedicated to the Virgin of the Annunciation. For that day  Siena municipality  donated votive candles, presented barn workers  and expose religious relics in the Chapel of the Vow.
This year Siena celebrates "his" New Year on March 25 with the following program:
4.30 pm meeting of the historical parade and  city authorities in the church of SS. Annunziata
5 pm  procession from the church of SS. Announced to the Public Palace in Piazza del Campo
5.30 inside the Public Palace LECTIO MAGISTRALIS proclaimed by Cardinal Gianfranco Ravasi.
posted by www.hotelsienaborgogrondaie.com
Likes
(

0

)
Dislikes
(

0

)