An exhibition dedicated to the most celebrated and beloved star of Holliwood: Marilyn Monroe who was not only an actress but an unforgettable icon of style. The exhibition wants to suggest it again thanks to shoes and costumes of her most well-known movies, to photos and works of art which portray her.
The exhibition will take place in Florence, very close to Siena, till January 28th, 2013 at the Salvatore Ferragamo Museum and it was this important fashion designer, Ferragamo, who created for her, through the diva's most famous period, the 14 pairs of shoes displayed at the exhibition.
Openings times: from 10 a.m. to 6 p.m. (closed on Tuesday)
Tickets: € 6,00
Posted by: www.hotelsienaborgogrondaie.com
The exhibition will be held at Palazzo Strozzi in Florence,  just 1 hour's drive from Siena and it will end on January 27th , 2013.
In the Thirties, during the Fascism, there was a battle of great artistic vitality that saw involved all the trends of the decade, from Classicism to Futurism, from Expressionism to Abstract art, monumental art, decorative painting and design.
The exhibition is represented through a hundred paintings, sculptures and other objects of design realized by important artists such as De Chirico and Guttuso.
Through a series of specially activities, visitors can also explore some of the key themes of the exhibition such as the mass communication and the industrial design
Opening times: every day from 9 a.m. to 8 p.m. / Thursday from 9 a.m. to 11 p.m.
For information call: +39 055 2645155

Posted by: www.hotelsienaborgogrondaie.com
Come and experience the unsetting atmosphere in a real castle to attend a dinner on the main floor of the Castle of Meleto only by candlelight and to follow … a SURPRISE for all ages visitors.
For more information http://www.castellomeleto.it
Posted by info@hotelsienaborgogrondaie.com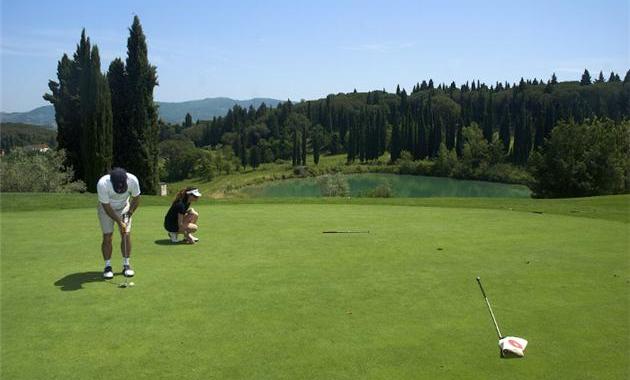 For golf lovers, here the list of places where you can practice during your holiday in Tuscany
Castelfalfi G. & C. Club – tel. 0571.698466 www.castelfalfi.it 18 holes par73, mt. 5680 closed January. Closing day:tuesday
Cosmopolitan G. & C. Club – tel. 050.33633 www.cosmopolitangolf.it 18 holes par 72 mt.6045. Closing day: monday
Le Pavoniere G. & C. Club – tel. 0574.620855 www.gulfclublepavoniere.com 18 holes par72, mt. 6137  Closing day:monday
Montecatini Golf Club – tel. 0572.62218 www.montecatinigolf 18 holes par72, mt. 5857  Closing day: tuesday
Golf Club Poggio dei Medici - tel. 055.84350 www.poggiodeimedici.com18 holes par73, mt. 6338
Golf Club Punta Ala – tel. 0564.922121  www.puntaala.net/golf 18 holes par72, mt. 6168 Closing day: tuesday from Nov. to March
Golf Club Toscana- tel. 0566.820471 www.toscanagolf.com 18 holes par73, mt. 5680  Closing day: tuesday
Golf Club dell'Ugolino - tel. 055.2301009 www.golfugolino.it 18 holes par72, mt. 5676 Closing day: monday from October to March
Versilia Golf Club- tel. 0584881574 www.versiliagolf.com 18 holes par71, mt. 6115 Closing day: tuesday from Dec. to March
Argentario Golf Club - tel. 335.5461928 www.argentariogolfclub.it 18 holes
published by  www.hotelsienaborgogrondaie.com
On Saturday, October 27th, the ninth day of the national urban trekking will be held in Siena, a guided tour to learn about and discover this beautiful town.
This year the theme is " common stories of uncommon people" a path dedicated to uncommon characters but often not enough known that have gone through the history of Siena at different times, the protagonists of stories of faith, passion and talent.
Walking time: 2 hours and a half
Length: about 3 km
Starting point: Piazza del Campo (Siena)
Departure time of the guided tours: at 5.00 p.m. –  5.15 p.m.  -  5.30 p.m. – 5.45 p.m.-  6.00p. m. – 6.15 p.m. – 6.30 p.m.
For further information:  Tourist and Economic Development Office  tel +39 0577 292128/78    Or visit www.trekkingurbano.info

Posted by: www.hotelsienaborgogrondaie.com
On Sunday, October 14th: Walk Tour through churches and castles with medieval entertainment and a falconry show.
On the occasion of  the " 1st National Walking Day", Monteriggioni, a very nice medieval village near Siena, will organize a walking tour that will lead you to some of the most important places of Monteriggioni's territory like the Chiocciola Castle and the Colle Ciupi's Church.
Along the way characters in medieval cloths will entertain you; the event will go on with a falconry demonstration.
Length of the itinerary: about 6.5 km
Duration: about 2 hours and a half
Price 5 € per person
Reservation is required within October, 12th
Itinerary suitable for children over 8 years old.
For Info and Reservation : www.monteriggioniturismo.it
Posted by: www.hotelsienaborgogrondaie.com
Volterra, a few kilometers from Siena, will host "Volterragusto", an event that celebrates food and wine, especially local white truffles and other local products such as wine, cheese, olive oil, and chocolate.
Ancient courts and historic buildings will be open to visitors for the occasion and will be the natural setting for the numerous initiatives and tasting events.
The appointment will be on  October : Saturday 20th ; Sunday  21st ; Saturday 27th ; Sunday  28th ; Wednesday 31st  and on November Thursday, 1st.
Among the many initiatives to report definitely "The Cheese race" (Sunday, October 21st  at 3 p.m.), a race in which the districts of Volterra will compete by rolling along the city route their cheeses.
Tastings, meetings, historical parades and many other occasions not to be missed!
For the detailed program please visit www.volterragusto.co

Posted by: www.hotelsienaborgogrondaie.com
L' "Eroica" … the legendary  vintage cycling race that takes place through the hinterland of Siena, especially in areas of the Crete Senesi and the Chianti area.
A path that takes place almost entirely on the "White Road", the typical dirt roads of the Tuscan countryside.
Tourists, professionals or just lovers all over the world participate in this event to relive the authentic cycling, that one of the champions of the past.
The departure will be Sunday, October 6th  from Gaiole in Chianti (a few kilometers from Siena).
In the two days before the race other small events, related to the main event, will be organized such as guided bike  tour on "heroic"roads (Saturday, October 5th).
For more information about the program visit www.eroicafan.it
Posted by: www.hotelsienaborgogrondaie.com
On October 6th and 7th  in Poggibonsi, a few kilometers from Siena, the feast of the "Pigio" will be held, a competition that shows the ancient technique of grape pressing .
The competition involves the seven districts of the city territory that vie for the"Boccione" (a demijohn, decorated by a local artist, that is for the District that produces more juice).
The other prize to compete for, is that of the "Zipolo" (a work of art derived from the demijohn cap), it is delivered to the District that organizes the best parade in the streets of Old Town.
A nice  and lively  celebration to relive colors and scents of the past.
 
For more information contact Hotel Siena Borgo Grondaie
Posted by: www.hotelsienaborgogrondaie.com
On Saturday, September 22nd, in Gaiole in Chianti, a few kilometers from Siena, in the splendid setting of the castle of Brolio, there will be a display of vintage cars registered between 1919 and 1969  participants in the Gran Premio Nuvolari ( Nuvolari Grand Prix).
The exhibition will be held in the parking located in front of the wine cellars of Barone Ricasoli from 12 am to 15 pm.
Because of the event, the following facilities will observe the following schedule:
- Castle of Brolio: open from 3:30 pm to 7 pm (ticket office closes at 6 pm)
- Wine Bar: open from 10 am to 12 am and from 3:30 pm to 7 pm
- Osteria del Castello: closed for lunch and dinner
For more information contact Barone Ricasoli: +39 0577 730 266
Posted by: www.hotelsienaborgogrondaie.com