Never tried a bruschetta with new olive oil ? If you've never tasted one,  ​​a visit to Tuscany in late November-December can not be missed in oder to see Olives Harvest. For olive oil, as for wine, vintages are never the same . Climate , water and soil influence aroma and flavor . Some people like to put garlic on bread but I love to taste the olive oil as it is. Living the oil means take care of  the plant throughout the year, to work hard to peak the olives and get excited to see them squeeze at the oil mill. The olive harvest is almost completely manual.  We strech a large circular tarpaulin under the olive tree , and then the olives are harvested by beating the high branches and combing the lower branches . The secret for a good oil is to take olives to the mill after a few days from the harvest  inj order to avoid  mold development  that could adversely affect the flavor of the oil . This is why at Borgo Grondaie, like all those who have many olive trees, need  more trips to the mill. Any excuse is good  to eat a fantastic bruschetta !
The bruschetta is definitely the best way to enjoy the new oil.  Remember that for the bruschetta you need  a kind of  bread with  consistent guts. The best are definitely the bread baked in a wood oven and than…..lot of olive oil on!   
Do you know that it is possible to make fantastic low calories breakfast cakes using olive oil? If you substitute butter  with olive oil and yogurt can get healthy and tasty desserts.
The recipe for the realization that I propose is from the site http://www.lacucinaimperfetta.com
Ciambella all'olio extra vergine di oliva
Ingredients for a cake of 24 cm in diameter
340 gr. flour

200 gr. sugar

125 gr. white yogurt

120 gr. olive oil

4 eggs

grated rind of 1 lemon1

1 teaspoon

of baking powder

icing sugar

Difficulty: Easy
Preparation time: 10 minutes
Cooking time: 30 minutes
Total time: 40 minutes

Put in a large bowl or in that of the mixer eggs with sugar and mount them together until the mixture is light and fluffy (if you don't use a mixer use the electric whisk).
Add the oil and continue to work the mixture with the whisk.
Add yogurt
and the flour where you will have joined the baking powder.
Also add the lemon zest and mix well with a wooden spoon.
On awell-oiled ring mold, pour  the mixture in.      
 Bake at 180 degrees and bake for about 30 minutes or until the cake will not become golden brown (do the toothpick test).
Let the cake cool down, unmold and sprinkle with icing sugar!
I could tell you a thousand other ways to use the extra virgin olive oil, but I prefer you to come to find out in the land of Tuscany and we hope at Borgo Grondaie


Likes
(

0

)
Dislikes
(

0

)
On November 11th , we celebrate St. Martin, saint and protector of many Italian municipalities and protector of hoteliers, too!
The story goes that at this time in Italy and also in Europe  a strange phenomenon occurs called  the Summer of St. Martin a period characterized by a warm climate and sunny days.
This year Siena has had many sunny days in October with temperatures even over 20 degrees. We are happy that the Summer of Saint Martin will extend this fantastic autumn.
As tradition says, the Summer of Saint Martin lasts 3 days and a little bit ….. do you think is a legend? The climatological cards over 50 years give reason to St. Martin!
Likes
(

0

)
Dislikes
(

0

)
Hats off to Siena guides association always very attentive to enhancing and promoting  Siena territory.
From November they will start a series of activities to which Borgo Grondaie would love to give prominence, with the hope that citizens and visitors appreciate the wonderful initiatives.
The first event  I want to point out, perhaps because as a mother I feel the need for activities to carry out with my son, it's remarkable.  It is to make known the floor of the Cathedral of Siena to children through the story depicted in the beautiful marble and the discovery of the characters shown.
The event is scheduled for Saturday, November 9th at 15:00  meeting point the ticket office of the Cathedral of Siena. The cost is 6 Euro per child and one adult per child has free entrance.
For more information please contact the authorized guides of Siena through their website www.guidesiena.it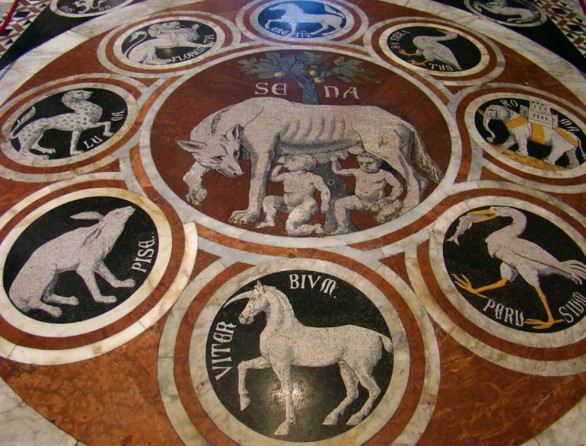 Likes
(

0

)
Dislikes
(

0

)
The Tarot Garden is an art park developed in the late seventies by the French artist Niki de Saint Phalle, populated by statues inspired by the shapes of the Tarots. Definitely inspired by the beautiful park Guell in Barcelona, Niki de Saint Phalle, with this fantastic garden, realizes the magical and spiritual dream of her life, to create giant sculptures, high around 12/15 meters, full of symbolic and esoteric meanings. Glittering sculptures, which seem to come from a storybook, built of steel and concrete, covered with mosaics in fine glass and ceramics. Many, from all over the world have already traveled this path of imagination, a place where not only nature and art meet, but that also remains suspended without space or time … ..
 
The park is located on the southern side of the Garavicchio hill near Pescia Fiorentina, an hamlet close to Capalbio (GR). It is about 1 ½ hours from Siena and being located between the coastal road  and inland hills, it is perfect solution for those who want to spend a pleasant day taking a nice break from the beach.
 
The park is open every day until October 15th  from 2:30 p.m to 7:30 p.m.
We visited this wonderful park and here same photos:
 
For more information contact Hotel Borgo Grondaie
Posted by: www.hotelsienaborgogrondaie.com
Likes
(

0

)
Dislikes
(

0

)
By chance I have taken part in an initiative, which is called Digital Invasion  #invasionidigitali, for motivating  people to enter  into the places of art all across Italy, people with cameras or even mobile phones, to shoot photos, freely, without flash, and then to put them up on social networks, like Twitter, Facebook, Instagram.
A procedure of sharing artistic images, with the speed of today's times, to make them accessible to others, maybe only an hour after having seen them, details of a painting or a glimpse of a church, a garden and a sculpture,  captured by visitors in an all-embracing bewilderment.
Once disbanded the sanctity of the Pinacoteca of Siena and the works  within, we  wander around in search of an immediate grandeur, inebriated by a bright largeness of enjoyment  like an undisciplined school-class on a tour through the silent halls.
This is invasionidigitali!
With this walk, together with others- really too few for a such  unexpected opportunity- I proceed through the halls. The organizers have provided us a descriptive text in advance , obviously through email, with the sequences and the artists.
Surprised  by this possibility and with about three hours at my disposal I get ready to observe the paintings with a different look and I cheer  up from the overcast and tedious day outside.
Being in ignorance of  art and  old masters, I approach the paintings that attract me more and that intrigue me because of interesting images and  perspectives.
Madonna' gazes so melancholic and intense enchants me. In the folds of a painting I catch sight of more figures, main characters in that component. On the predella of famous paintings there are whole stories told, like small worlds standing on their own in a wider landscape. Some bishops inspect me despotically next to gentle angels. The fixedness of their gazes offers to all visitors a recall of something different, a reflection which, however,  we hold difficulties, because nearby there is another painting which in turn gives a new demand. Among  the astonishment and the incomprehension and the admiration for such perfection and beauty, we  remain  struck and almost embarrassed  for not being able to detach our look.
The work presented here focuses on the peculiarity of the details, sections of paintings from which the color has been taken out for a pictorial reading without the amplifications of pigments. A photographic claim in light of the magnificence of these paintings, where gold is the main actor next to the carmine-red, the vermillion, the faint colors of rosy reflections in religious worlds, which tell the scenes of the holy family with stylized landscapes in the distance, locations of Siena, folks from times ago.
In this syndrome of emotional contradictions between what I see and what I feel, I think about  historians  who know these objects d'art,  their history. They have deeply studied the old masters  and  their peculiarities and first of all their distinctive trait. I admire these people, who pass their lives following their own itineraries with commitment and strictness and often lead them up to important discoveries for the understanding of the painter, to that tile which was missing for the full and definitive assignment of a master-piece, and who continue to research, analyse, study, examine pictures, read books and essays, always directed towards the appropriate settlement.
I deem myself fortunate for having lived in a family, where art was at home at all levels, and for have been able to move around easily amidst art-works of importance without anybody revealing or explaining anything to me. The paintings were there and I was there in front of them. This was a great gift that I have received and also in this way my photographical analysis of the sight was born.
Pick up what you have seen and return it, interpreted in a photography.
The Pinacoteca di  of Siena with its important works and with the stillness of its halls has allowed me to relive intensely this freedom of enjoyment.
I vividly thank those who have organized this visit, which has provided an important service for communicating art, in the most contemporary and immediate aspects, in spite of not being backed up by any historical and artistic research, it has allowed many people to get into contact with a reality that surrounds us and which remains invisible for most.
Likes
(

0

)
Dislikes
(

0

)
Siena is a land of wine and this value is recognized all over the world. Chianti and Brunello's wineries open their doors to public for tours and tastings on May 26th.
If your intention is to taste many wines remember that there is the possibility of transfers from Siena downtown and for a small rate it will allow you to taste the nectar of Bacchus without worrying about driving.
Enjoy your visit!
Likes
(

1

)
Dislikes
(

0

)
Do you know the lavender scent in full bloom? That particular fragrance that smell like summer liquorice and clean?This is scent of Borgo Grondaie at sunset.  I notice the same smell now, opening my closet door where I keep neatly placed my home linen. At this time, though here it is a gray and rainy afternoon, my thought takes off and brings me back to the summer, to the long sunny days, balmy nights at Borgo Grondaie.
Borgo Grondaie is a small, family run hotel and apartments of charm (and I mean the real charm that makes you live and love a territory in all its nuances and not the fictitious furniture from glossy magazines and completed by a punctual as much as cold and impersonal service!). Borgo Grondaie is strategically located at the entrance of the city of Siena, whose center is just a few minutes from here by car but in the Tuscan countryside. As I get some free days off from my work I love to come back to the Borgo, pick up the thread of my life and feel in peace with the world and myself. The welcome is as warm as professional. Gaia and Amina have become real friends for many of their guests: the atmosphere here is relaxed and serene, and it is easy to feel at home, among friends.
And the lavender, you say!?
Lavender has to do with my story, because Borgo Grondaie is not simply a group of comfortable rooms and airy apartments: the Borgo is also everything that surrounds him, from the little squares with tables and chairs where you stop to have a coffee or a good glass of wine, the flowerbeds, trees and bushes always well maintained, to large lawns that all year long have retained that dazzling shade of green, typical of this part of Tuscany.
The lavender bushes frame some meadows and the pool area of Borgo Grondaie, which is situated in a slightly elevated position just far enough from apartments and rooms. Here, during the day you spend quiet hours sunbathing and swimming in the cool,clear and salt water even if the real magic comes at sunset. It is when the sun starts setting on the horizon that many guests leave their sunbeds and the atmosphere becomes even quietier. The pool water, made warmer by the long hours of sun, it's tinged with shades of orange and purple, while the birds singing intensifies. At that moment I love to dive and swim slowly, leaving me wrap by water: my body relaxes in water embrace and tensions accumulated during months of work are softened in the golden light of sunset. At that time it becomes easier to feel at one with the wonder that surrounds you. Sometimes you are alone but other someone is eager to enjoy those moments of peace … then you swim slowly, basking in the water and greetings each other just with a brief mention of eyes, in order not to interrupt the magic of that moment.
When the sun disappears I'm ready to go back in my apartment, where a hot shower expect me with olive oil bath products that Gaia and Amina never forget to let me find in the apartment and that, with its delicate aroma, completes the sensory path of the day.
Day is not complete without a visit to one of the many small osterie (restautants) in Siena downtown or in the country area, because Tuscan traditional cuisine is appreciated as one of the most exquisite on earth. Personally, when I stop in the city, I love to dine at Trattoria Da Cecco, a small restaurant in Via Cecco Angiolieri, a side street of Via Banchi di Sopra, the main road leading to Piazza del Campo and the Duomo. The restaurant is small and not easy to find availability but on summers they have more space as they place tables outside: don't miss Pici in all the different toppings, but I also remember their chicken with lemon and all their pastries, including the tiramisu of the house.
But when we decide to drive to the country area the village that I love more in the summer season is Monticchiello. I leave Borgo Grondaie with direction Asciano, an area famous all over the world for its hilly road surrounded by Cipress trees. Here the landscape enchants you with ever-changing shapes and colors at any time of day and every season. It's quite surreal to drive along this lunar landscape that recall memories of Medieval time when knights crossed this land and stop to quench the thirst in one of the small lakes and plunged into the breathtaking landscape that varies at every bend of the road. The direction to take is to Pienza then, once you reach the location, to San Quirico d'Orcia valley and then to La Foce from which you drive uphill to Montichiello. The small village, situated on the brow of a hill, for years has become popular not only for its unquestionable charm but for its "poor theatre" that every year turns streets and squares into a open-air theatre and the population into a real theater company.
From Monticchiello you can admire the entire valley and hills all around and their alternation is like the waves of a green and quiet ocean . Once in Montichiello sight has no barriers and can range as far as the eyes make it possible: here, at sunset, while sky is getting red, it is time to sit a on the terrace of "La Porta "wine bar, located right next to the gate of Monticchiello.
A pleasure accessible to everybody is to enjoy the sunset with a delicious bruschetta with extra virgin olive oil and garlic, with a plate of pecorino from Pienza of different agings, all combined with a glass of Brunello di Montalcino and Nobile di Montepulciano , excellent wines of this area. It's difficult to say if it's the wine inside your glass that is asborbing the sunset nuances or if it's the sunset that becomes more and more similar to the wine. Certainly it's in this moment that you feel grateful to life.
A stop that I want to suggest you leaving Montichiello is Bagno Vignoni. It doesn't matter in which time of the year you are there, it's worth stopping and walk along the perimeter of the marvelous square-thermal swimming pool built by the Romans. Generous nature and human talent seem to have found here the perfect agreement in the construction of this incredible square-caldarium, Bagno Vignoni historic heart . While leaving Bagno Vignoni to return to Borgo Grondaie, I like to stop on the banks of the little stream of hot water that rises to the surface just outside the village, and then dive down forming pools of clear water. Soak your feet in this warm water it is possible at any season of the year, and it's great to do it at night when, raising your eyes up to heaven you get lost in the myriad of stars that shine undisturbed, away from the cities' light pollution .
Back at Borgo Grondaie, you are welcomed by the chorus of crickets and cicadas while the stinging scent of lavender rises from the bushes soaked with dew.
I hesitate a moment while closing my wardrobe and forward my mind to reality; just a breath of lavender (of course kept in bags purchased in Tuscany!) to relive the unique sensations that only this land can offer. And I smile thinking about my Borgo , a magical corner to stop and from which leave to discover this enchanted land that always welcome you with its heart and open yours where it will stay forever.
Likes
(

0

)
Dislikes
(

0

)
For two days, Sarteano, a nice village near Siena (about an hour by car), will be transformed into a wonderful show of colors, art and fragrances. All this thanks to "Artinfiore", the first festival of flowers and creativity.
Located in the historical center of Sarteano you'll admire different art installations inspired by the "greenery" theme. It will be also possible to visit the trade show dedicated to flowers , uncommon plants and crafts related to gardening.
The event will also provide children's workshops and classes for all ages to learn something new about the world of flowers.
You can find more information on : www.prolocosarteano.it
Source: Siena News
Posted by: www.hotelsienaborgogrondaie.com
Likes
(

0

)
Dislikes
(

0

)
Hello everybody from Hotel Borgo Grondaie!
Springtime still doesn't arrive …. so….let's go looking for it !!!
Where and when? Just near Siena (about 1 hour by car), in Cetona, on April 24th and 25th, there will be an appointment with " Cetona in Fiore"( in Bloom), a very nice trade show dedicated to plants, flowers and garden tools.
The show, now in its eighteenth edition, shall take the following opening hours: form 9 a.m.to 8 p.m
Do not miss the chance to take part of this colorful and scented event !
Posted By: www.hotelsienaborgogrondaie.com
Likes
(

0

)
Dislikes
(

0

)
From April 12th to 14th, the town of Lastra a Signa (about 1 hour drive from Siena) will host an event not to be missed. The monumental park of Villa Bellosguardo, whose owner was the great tenor Enrico Caruso, will host the 3rd trade show dedicated to rare and ancient plants and the 2nd show of Italian saffron.
Over the three days it will also be possible to visit the park, the museum and the exhibition dedicated to  master Caruso.
The event will end with a concert by the pianist Marlene Fuochi.
Opening hours:
-Friday 3 p.m./8 p.m.
- Saturday and Sunday 10 a.m./8 p.m.
Admission € 3.00 (except Fridays. Free Admission)
Posted by: www.hotelsienaborgogrondaie.com
Likes
(

0

)
Dislikes
(

0

)