Hats off to Siena guides association always very attentive to enhancing and promoting  Siena territory.
From November they will start a series of activities to which Borgo Grondaie would love to give prominence, with the hope that citizens and visitors appreciate the wonderful initiatives.
The first event  I want to point out, perhaps because as a mother I feel the need for activities to carry out with my son, it's remarkable.  It is to make known the floor of the Cathedral of Siena to children through the story depicted in the beautiful marble and the discovery of the characters shown.
The event is scheduled for Saturday, November 9th at 15:00  meeting point the ticket office of the Cathedral of Siena. The cost is 6 Euro per child and one adult per child has free entrance.
For more information please contact the authorized guides of Siena through their website www.guidesiena.it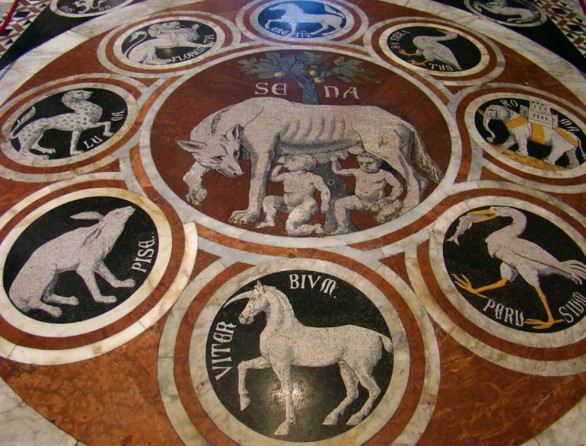 Likes
(

0

)
Dislikes
(

0

)
Siena is a land of wine and this value is recognized all over the world. Chianti and Brunello's wineries open their doors to public for tours and tastings on May 26th.
If your intention is to taste many wines remember that there is the possibility of transfers from Siena downtown and for a small rate it will allow you to taste the nectar of Bacchus without worrying about driving.
Enjoy your visit!
Likes
(

1

)
Dislikes
(

0

)
For two days, Sarteano, a nice village near Siena (about an hour by car), will be transformed into a wonderful show of colors, art and fragrances. All this thanks to "Artinfiore", the first festival of flowers and creativity.
Located in the historical center of Sarteano you'll admire different art installations inspired by the "greenery" theme. It will be also possible to visit the trade show dedicated to flowers , uncommon plants and crafts related to gardening.
The event will also provide children's workshops and classes for all ages to learn something new about the world of flowers.
You can find more information on : www.prolocosarteano.it
Source: Siena News
Posted by: www.hotelsienaborgogrondaie.com
Likes
(

0

)
Dislikes
(

0

)
Yes! In Siena, we  celebrate the New Year also on March 25!
The modern calendar comes from Pope Gregory XIII 's will  who adopted a single rule for measuring time. Think about how it could be to use a different calendar in our world! Before 1582 in Siena, the New Year was celebrated on March 25 because it matched the day of the Annunciation to the Virgin Mary. On same date it took place the Feast of the ancient Hospital and  of its church which was dedicated to the Virgin of the Annunciation. For that day  Siena municipality  donated votive candles, presented barn workers  and expose religious relics in the Chapel of the Vow.
This year Siena celebrates "his" New Year on March 25 with the following program:
4.30 pm meeting of the historical parade and  city authorities in the church of SS. Annunziata
5 pm  procession from the church of SS. Announced to the Public Palace in Piazza del Campo
5.30 inside the Public Palace LECTIO MAGISTRALIS proclaimed by Cardinal Gianfranco Ravasi.
posted by www.hotelsienaborgogrondaie.com
Likes
(

0

)
Dislikes
(

0

)
On December, 15th and 16th  in Siena and more precisely in the heart of the city, in the beautiful Piazza del Campo, an extraordinary event will come back: "the market in the Campo Square," a real modern market that, both in terms of products or the arrangement of the sales counters (which will be a copy of those of the past), will propose an image of what the city market at the time of the Republic of Siena was. Two whole days to admire and taste the tradition of Siena with the quality of today.
In the thirteenth century, the "big market", which took place once a week in the square, was the main source of supply but also a place of social relations and important area of trade. The small farmers from the countryside and craftsmen were so numerous that at some point it became necessary to reorganize the market to make it less chaotic adopting a specific placement that will be reproduced during the event, in fact there will be a food area (once the queen of the market was the "treccola" , she who sold fruits and vegetables, legumes as well as milk and cheese, poultry and game) and another area dedicated to crafts (among the most known craftsmen were tanners, baskets makers, cobblers, sellers of barrels). In today's market it will be possible to find other excellence of the territory as producers of wine, saffron, bakers, goldsmiths, bookbinders and many others. Some craftsmen will perform live their creations and, as once part of the square was reserved for entertainment, games and activities will be organized to involve also the children.
On the occasion of the event it will be possible take guided tours at a cost of € 5.00 (free for children up to 11 years) to discover places of taste which ,over time, have distinguished Siena. Departure for the visits is scheduled at 11a.m. and 4p.m. from the information desk.
Some restaurants in the city will take part in the event offering typical food:
- ALL'ORTO DE PECCI ("pici" with garlic) pici, gnocchi and pappardelle are typical kind of pasta  
- CASATO ENORISTORANTE ( "polenta" with wild boar) polenta  is cornmeal mush
- FONTE GAIA ( red gnocchi with potatoes and beetroot served with black cabbage and sausage)
- FORI PORTA (sausages and beans with" polenta" and mushrooms)
- GROTTA DEL GALLO NERO ("pici "with wild boar and wild boar stew)
- BAGOGA (pork stew)
- IL RIALTO (braised beef cooked with chianti wine with mashed potatoes)
- IL BANDIERINO ("pici" with cheese and pepper)
- LA BIRRERIA (pasta with "cinta senese" pig sauce)
- LA BUCA DI SAN PIETRO ( "pici" with black cabbage, crumbs and pecorino cheese)
- LA CHIACCHIERA ( stew with potatoes)
- LA FINESTRA ( wild boar with grape and apples)
- LA MOSSA ("senese" tripe)
- LA SPERANZA (wild boar)
- MILLEVINI (braised beef with "polenta" pie)
- MUGOLONE (chicken with "sangiovese" grapes or wild boar in " dolce forte" sauce)
- OSTERIA BABAZUF ( vegetable soup with meat balls)
- TRATTORIA DELL'OSTE MEZZO AL GIUGGIOLO ( "pappardelle" with wild boar sauce).
Posted by: www.hotelsienaborgogrondaie.com
Likes
(

0

)
Dislikes
(

0

)
(from December, 1st  2012 to January, 27th 2013).
Siena Crypt and  Piccolomini Library will host "Puer Natus", an unusual exhibition dedicated to the magnificent illuminated parchments inspired by the history of Jesus childhood as the "Annunciation", the "Nativity", the" Adoration of the Magi" (Three Wise Men) and the" Introduction of Jesus at the Temple".
For the first time the anthems of the Piccolomini Library will be open on a paper (page) that differs from that on display at the permanent exhibition, while in the Crypt  Jesus'childhood will be represented through precious anthem books belonging to the end of the thirteenth century and coming from the Archive of  the Museum of the Duomo (the Cathedral).
The visit to the Crypt will be accompanied by listening to Gregorian chants linked to the Liturgy of Christmas.
The anthems will also be virtually browsed (to better admire the valuable features) thanks to touch-screen reproductions.
All inclusive ticket € 8.00 (Puer Natus, Crypt, Piccolomini Library, Cathedral, Baptistery  and Opera Museum). Free entry for residents and children under 11 years.
For information, reservations and guided tours: +39 0577 286300
Posted by: www.hotelsienaborgogrondaie.com
Likes
(

0

)
Dislikes
(

0

)
On Saturday, October 27th, the ninth day of the national urban trekking will be held in Siena, a guided tour to learn about and discover this beautiful town.
This year the theme is " common stories of uncommon people" a path dedicated to uncommon characters but often not enough known that have gone through the history of Siena at different times, the protagonists of stories of faith, passion and talent.
Walking time: 2 hours and a half
Length: about 3 km
Starting point: Piazza del Campo (Siena)
Departure time of the guided tours: at 5.00 p.m. –  5.15 p.m.  -  5.30 p.m. – 5.45 p.m.-  6.00p. m. – 6.15 p.m. – 6.30 p.m.
For further information:  Tourist and Economic Development Office  tel +39 0577 292128/78    Or visit www.trekkingurbano.info

Posted by: www.hotelsienaborgogrondaie.com
Likes
(

0

)
Dislikes
(

0

)
Siena Festival is a new festival of performing arts in the city that raises the previous experiences of other Festival like "Contemporary Baroque Festival", "Voci di Fonte"  and "Teatrinscatola".
The program offers a contemporary reinterpretation of the classics baroque music, theater and dance; it is a cultural project that wants to mix the past with the present through dialogue between different art expressions .
Numerous events will take place like dance shows, concerts, guided tours, exhibitions, screenings and meetings.
For detailed information about the program: www.sienafestival.it
Posted by: www.hotelsienaborgogrondaie.com
Likes
(

0

)
Dislikes
(

0

)
Treno Natura : a trip on a vintage train always combined with a special event along the Tuscan countryside.
You can stop at small stations to continue on foot to discover small villages, churches and castles, to taste local products and much more …
This is the calendar of trips:
October 14th  Steam Train (Porcini Mushroom Festival )- Vivo d'Orcia
October 21st  Steam Train (Countryside Festival) – Monte Amiata
November 4th  Steam Train (Festival of Castratone) – Piancastagnaio
November 11th  Steam Train (White Truffle) – San Giovanni d'Asso
November 18th  Steam Train (White Truffle) – San Giovanni d'Asso
December 2nd  Steam Train (Christmas Markets in Amiata)
December 8th  Steam Train( New Oil Festival )- San Quirico d'Orcia
December 16th  Steam Train (Siena and its Museums)
Information and reservations
Visione del Mondo Travel Agency
Via Camollia, 130
53100 Siena
T. +39 0577 48003
Fx +39 0577 236724
info@visionedelmondo.com
Posted by: www.hotelsienaborgogrondaie.com
Likes
(

0

)
Dislikes
(

0

)
The sixteenth edition of the Terra di Siena Film Festival will kick off on September 29th  and will end on October 4th . This film festival, dedicated to independent cinema from around the world, has introduced new reality film, brought to the public international premieres and meetings with the protagonists of the great cinema.

The exhibition will start on September 29th in the beautiful Abbey of San Galgano, a few kilometers from Siena, with the screening of a classic Walt Disney movie in the restored version: "THE SWORD IN THE STONE" and will continue the next day, always in Val di Merse, with a retrospective of films whose protagonists are the horses; on the occasion of this retrospective exhibition there will also be demonstrations on horseback and theme workshops. All this to introduce the premiere of the documentary film "BUCK" produced by Robert Redford, who will be the great testimonial of this festival after so many other important artists who have come and gone in previous editions (Andy Garcia, Susan Sarandon, Colin Firth, Bernardo Bertolucci and many others).

The Festival will move in the historical center of Siena with screenings of all the films in competition that will compete for the prestigious award, the Golden Sanese that will be delivered in the final evening, along with other prizes at the Academy Chigiana.
Among the events not to miss there will be a conference about  the age of the Telefoni Bianchi ( White Telephone) and a  tribute to a legend of cinema Anna Magnani.
For more information about the program visit: www.terradisienafilmfestival.it

Posted by: www.hotelsienaborgogrondaie.com
Likes
(

0

)
Dislikes
(

0

)