A meeting that opens the new summer season : Siena Ultramarathon 2014. For those not involved in running an Ultramarathon is a race that exceeds the mandatory distance of 42,195 km of a marathon. Siena Ultramarathon will develops its 50,200 km route through some of the most beautiful Tuscan landscapes, with positive altitude of 600 meters. 15.600 km will be of dirt road with  breathtaking views . The departure will be from San Gimignano and the arrival in the Piazza del Campo in Siena .
The route of 50 km is dedicated to those who are trained for marathons or trial . The path will unfold in part on the ancient Via Francigena and will include 10 drinks' point. .
For non-marathon runners , it will be also organized two shorter paths: one  of 32 km. starting from Colle di Val d'Elsa and one of 18 km starting from Monteriggioni .A bus from Piazza del Campo is also organized to lead you at any departure points.
The occasion will be to live a day of sport surrounded by beautiful nature as those of  Sienese countryside and the arrival in Piazza del Campo, UNESCO World Heritage Site , will be thrilling .
It will be a race to remember!
I want to dedicate this post to a friend of Borgo Grondaie who like me loves running and has a special love for Siena… Wayne … what do you think about a run overseas?
For more information please check www.terredisienaultramarathon.it
posted by www.hotelsienaborgogrondaie.com
Likes
(

1

)
Dislikes
(

0

)
For two days, Sarteano, a nice village near Siena (about an hour by car), will be transformed into a wonderful show of colors, art and fragrances. All this thanks to "Artinfiore", the first festival of flowers and creativity.
Located in the historical center of Sarteano you'll admire different art installations inspired by the "greenery" theme. It will be also possible to visit the trade show dedicated to flowers , uncommon plants and crafts related to gardening.
The event will also provide children's workshops and classes for all ages to learn something new about the world of flowers.
You can find more information on : www.prolocosarteano.it
Source: Siena News
Posted by: www.hotelsienaborgogrondaie.com
Likes
(

0

)
Dislikes
(

0

)
Hello everybody from Hotel Borgo Grondaie!
Springtime still doesn't arrive …. so….let's go looking for it !!!
Where and when? Just near Siena (about 1 hour by car), in Cetona, on April 24th and 25th, there will be an appointment with " Cetona in Fiore"( in Bloom), a very nice trade show dedicated to plants, flowers and garden tools.
The show, now in its eighteenth edition, shall take the following opening hours: form 9 a.m.to 8 p.m
Do not miss the chance to take part of this colorful and scented event !
Posted By: www.hotelsienaborgogrondaie.com
Likes
(

0

)
Dislikes
(

0

)
From April 12th to 14th, the town of Lastra a Signa (about 1 hour drive from Siena) will host an event not to be missed. The monumental park of Villa Bellosguardo, whose owner was the great tenor Enrico Caruso, will host the 3rd trade show dedicated to rare and ancient plants and the 2nd show of Italian saffron.
Over the three days it will also be possible to visit the park, the museum and the exhibition dedicated to  master Caruso.
The event will end with a concert by the pianist Marlene Fuochi.
Opening hours:
-Friday 3 p.m./8 p.m.
- Saturday and Sunday 10 a.m./8 p.m.
Admission € 3.00 (except Fridays. Free Admission)
Posted by: www.hotelsienaborgogrondaie.com
Likes
(

0

)
Dislikes
(

0

)
It took months of work but on  April the 6th the Cathedral of Siena opens its attics that were never opened to the public.
With an experienced guide you walk  spiral staircases almost hidden from visitors' view and  in small groups you are taken over the vaulted stars of the right aisle. From there it begins a journey where view range from inside to outside the cathedral. You can visit Ulisse De Matteis windows with the representation of the Apostles and the gallery where you can admire the view on the main altar. From the left aisle  visitors can admire a breathtaking view of the Basilica of San Domenico, the Medici Fortress and the entire cupola of St. John the Baptist.
Much more is to discover if you decide to  participate in an event of historical and emotional impact like no other, organized by Opera – Civita Group
For information  www.operaduomo.siena.it
Posted by: www.hotelsienaborgogrondaie.com
Likes
(

0

)
Dislikes
(

0

)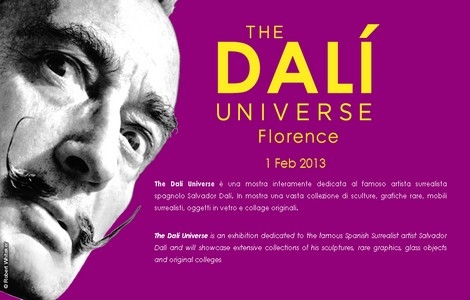 Hotel Siena Borgo Grondaie suggests an opportunity not to be missed!
In Florence, few miles from Siena, more precisely in Riccardi Palace, the exhibition "The Dali Universe" was recently inaugurated, thanks to which you can admire more than 100 works by the  most famous surrealist artist Salvador Dali.
The exhibition, dedicated to the Spanish master and open to the public until May 25th, is mainly focused on the theme of time and femininity, but thanks to this show some new artist's features come to light as the man fond of literature who reinterprets contemporary   works in a surrealist way but also great classical masterpieces as the Divine Comedy of Dante Alighieri or Boccaccio's Decameron.
Another  part of the exhibition is dedicated to the exploration of  the three-dimensional work that materializes in bronze sculptures, objects in glass and surrealist furniture.
Openings hours: all day from 9am to 7pm
Source: 1) Firenze Turismo  - 2) Vogue
Posted By: www.hotelsienaborgogrondaie.com
Likes
(

0

)
Dislikes
(

0

)
On December, 15th and 16th  in Siena and more precisely in the heart of the city, in the beautiful Piazza del Campo, an extraordinary event will come back: "the market in the Campo Square," a real modern market that, both in terms of products or the arrangement of the sales counters (which will be a copy of those of the past), will propose an image of what the city market at the time of the Republic of Siena was. Two whole days to admire and taste the tradition of Siena with the quality of today.
In the thirteenth century, the "big market", which took place once a week in the square, was the main source of supply but also a place of social relations and important area of trade. The small farmers from the countryside and craftsmen were so numerous that at some point it became necessary to reorganize the market to make it less chaotic adopting a specific placement that will be reproduced during the event, in fact there will be a food area (once the queen of the market was the "treccola" , she who sold fruits and vegetables, legumes as well as milk and cheese, poultry and game) and another area dedicated to crafts (among the most known craftsmen were tanners, baskets makers, cobblers, sellers of barrels). In today's market it will be possible to find other excellence of the territory as producers of wine, saffron, bakers, goldsmiths, bookbinders and many others. Some craftsmen will perform live their creations and, as once part of the square was reserved for entertainment, games and activities will be organized to involve also the children.
On the occasion of the event it will be possible take guided tours at a cost of € 5.00 (free for children up to 11 years) to discover places of taste which ,over time, have distinguished Siena. Departure for the visits is scheduled at 11a.m. and 4p.m. from the information desk.
Some restaurants in the city will take part in the event offering typical food:
- ALL'ORTO DE PECCI ("pici" with garlic) pici, gnocchi and pappardelle are typical kind of pasta  
- CASATO ENORISTORANTE ( "polenta" with wild boar) polenta  is cornmeal mush
- FONTE GAIA ( red gnocchi with potatoes and beetroot served with black cabbage and sausage)
- FORI PORTA (sausages and beans with" polenta" and mushrooms)
- GROTTA DEL GALLO NERO ("pici "with wild boar and wild boar stew)
- BAGOGA (pork stew)
- IL RIALTO (braised beef cooked with chianti wine with mashed potatoes)
- IL BANDIERINO ("pici" with cheese and pepper)
- LA BIRRERIA (pasta with "cinta senese" pig sauce)
- LA BUCA DI SAN PIETRO ( "pici" with black cabbage, crumbs and pecorino cheese)
- LA CHIACCHIERA ( stew with potatoes)
- LA FINESTRA ( wild boar with grape and apples)
- LA MOSSA ("senese" tripe)
- LA SPERANZA (wild boar)
- MILLEVINI (braised beef with "polenta" pie)
- MUGOLONE (chicken with "sangiovese" grapes or wild boar in " dolce forte" sauce)
- OSTERIA BABAZUF ( vegetable soup with meat balls)
- TRATTORIA DELL'OSTE MEZZO AL GIUGGIOLO ( "pappardelle" with wild boar sauce).
Posted by: www.hotelsienaborgogrondaie.com
Likes
(

0

)
Dislikes
(

0

)
Along the freeway Florence-Siena, one wonders what that new and futuristic building, that we find in Bargino village (near San Casciano Val di Pesa), could be.
It's the new Antinori's winary, the result of an ambitious project strongly wanted by Antinori's Family, who produces wine from 26 generations and, after five centuries, moves its headquarters from the center of Florence to the heart of "Chianti Classico".The cellar was built excavating in a hill and then covering the building with the ground.
On the roof, for didactic purposes, a vineyard was planted that brings together all the varieties of the Chianti vineyards, even those almost forgotten.
Inside the building there are three aisles 75 meters long, where, at a constant temperature of 17 degrees, barriques and barrels rest for a potential production of two and a half million bottles per year.
In addition to the winery and bottling area, the building consists of a museum, wine tasting areas, one restaurant, 250-seat auditorium, offices, and one wine store.
The project of the new winery (that has great respect for the Tuscan environment and landscape) is unique because combines architectural innovations and modern technologies of wine making with the Antinori's family tradition.
Opening is scheduled for February 2013.
Posted by: www.hotelsienaborgogrondaie.com
Likes
(

0

)
Dislikes
(

0

)
An exhibition dedicated to the most celebrated and beloved star of Holliwood: Marilyn Monroe who was not only an actress but an unforgettable icon of style. The exhibition wants to suggest it again thanks to shoes and costumes of her most well-known movies, to photos and works of art which portray her.
The exhibition will take place in Florence, very close to Siena, till January 28th, 2013 at the Salvatore Ferragamo Museum and it was this important fashion designer, Ferragamo, who created for her, through the diva's most famous period, the 14 pairs of shoes displayed at the exhibition.
Openings times: from 10 a.m. to 6 p.m. (closed on Tuesday)
Tickets: € 6,00
Posted by: www.hotelsienaborgogrondaie.com
Likes
(

0

)
Dislikes
(

0

)
The exhibition will be held at Palazzo Strozzi in Florence,  just 1 hour's drive from Siena and it will end on January 27th , 2013.
In the Thirties, during the Fascism, there was a battle of great artistic vitality that saw involved all the trends of the decade, from Classicism to Futurism, from Expressionism to Abstract art, monumental art, decorative painting and design.
The exhibition is represented through a hundred paintings, sculptures and other objects of design realized by important artists such as De Chirico and Guttuso.
Through a series of specially activities, visitors can also explore some of the key themes of the exhibition such as the mass communication and the industrial design
Opening times: every day from 9 a.m. to 8 p.m. / Thursday from 9 a.m. to 11 p.m.
For information call: +39 055 2645155

Posted by: www.hotelsienaborgogrondaie.com
Likes
(

0

)
Dislikes
(

0

)