Hi everybody!
As promised, Hotel Borgo Grondaie is going to reveal the sweet recipe for RICE FRITTERS!
Regarding our tradition in Siena, we use to eat these fritters during the Father's  Day……they are really delicious.
Here the recipe:
Cook the rice slowly for several hours adding a pinch of salt. As it cooks, it releases starch becoming very creamy. Add candied orange peel to sweeten the mixture, than mix with flour to thicken enough to hold its shape. Form balls of the rice mixture, fry in hot olive oil and dust freely with sugar when still hot.
Source: from  the Book: " I Luoghi  del Gusto a Siena "
Posted by: www.hotelsienaborgogrondaie.com
A special greeting to all daddies in the world from Hotel Siena Borgo Grondaie!
In Italy and in many other Catholic countries, Father's Day is celebrated on March 19th, the day dedicated to St. Joseph, Jesus 'father. Being a model of devoted husband and father, St. Joseph is also recognized as a protector of orphans,  poor and bachelors.
For Anglo-Saxon peoples this special day is celebrated on the third Sunday of June and has no religious facet. In some Monarchies Father's Day coincides with reigning king's birthday, while in other countries the date is associated with the celebration of men who had a significant role in the history (in Russia, for example, the festival coincides with the one dedicated to the defenders of the country).
Father's Day has pagan traditions origin. March 19th is a date  very close to spring equinox when, in ancient Rome, people dedicated Baccanali to Bacchus. The other tradition was to burn previous  harvest residual as a rite of purification. In some regions this tradition is still widespread.
Each region of our country celebrates St. Joseph with a typical sweet as bignè, donuts  or "zeppole"…. Siena have the tasty " frittelle di riso"(small sweet balls made of rice)…. but we'll talk about the recipe next time!
Source: Wikipedia
Posted by: www.hotelsienaborgogrondaie.com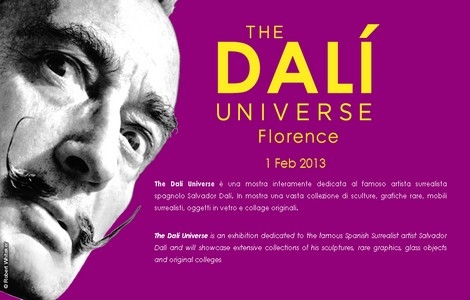 Hotel Siena Borgo Grondaie suggests an opportunity not to be missed!
In Florence, few miles from Siena, more precisely in Riccardi Palace, the exhibition "The Dali Universe" was recently inaugurated, thanks to which you can admire more than 100 works by the  most famous surrealist artist Salvador Dali.
The exhibition, dedicated to the Spanish master and open to the public until May 25th, is mainly focused on the theme of time and femininity, but thanks to this show some new artist's features come to light as the man fond of literature who reinterprets contemporary   works in a surrealist way but also great classical masterpieces as the Divine Comedy of Dante Alighieri or Boccaccio's Decameron.
Another  part of the exhibition is dedicated to the exploration of  the three-dimensional work that materializes in bronze sculptures, objects in glass and surrealist furniture.
Openings hours: all day from 9am to 7pm
Source: 1) Firenze Turismo  - 2) Vogue
Posted By: www.hotelsienaborgogrondaie.com
Hi! My name is Giulia, I study in a commercial school in Siena, and thanks to my school  I'm doing my first job experience at Hotel Siena Borgo Grondaie. During this week I have discovered a lot of new things about Siena that before ignored. Especially because Borgo Grondaie  is organizing a tour called #unterzociascuno . I have understood the importance of social media for hotels, because they represent a perfect showcase on internet and, I learnt to use pinterest and twitter. I have seen how a hotel management program works e.g. the check-in and check-out operations and reservations. My experience at Borgo Grondaie will be very useful as far as my languages studies in case I find a job in the hotel industry.
It's Carnival!
Today Hotel Siena Borgo Grondaie proposes you a typical recipe of Carnival time: delicious sweets called "Cenci" … yummi!!
In the Christian's  tradition Carnival marks the moment of celebration before Lent, a period marked by fasting and penance; and like any respectable holiday ….  it couldn't come without sweet!
Here is the recipe for the fabulous cenci: (from the book: I quaderni di cucina senese " Con Poco o Niente" by Andrea Maestri).
Make a dough enough firm with 1 egg, 1 tablespoon of sugar, 10 gr (2,38 tsp or 0,35 oz) of butter and 100 gr (0,43 cup or 3,53 oz) of flour. Work the mixture well and roll out the dough about 3 mm  ( 0,118 inches) high.
Cut the dough (you can use a small wheel for pasta or a jagged knife) into strips two fingers high and about 6/7 cm (2,75 inches) long.
Fry in hot oil, let cool and sprinkle with powdered sugar.
P.s.: you can add to the mix (as my grandmother did) some grated orange peel or a small glass of 'vin santo" (or dry white wine).
Posted by: www.hotelsienaborgogrondaie.com
Hello everyone!

Hotel Siena Borgo Grondaie is curious to know how you will spend the next few days (January 29th/30th/31st ) called the "days of the blackbird".Surely you know that by tradition these three days are considered to be the coldest of the year,but do you know why?
The legend tells that once January had only 28 days and every year it enjoyed to harass a beautiful white plumage blackbird. Indeed, it seems that whenever the little bird came out of the nest to find food,January sent on Earth icy weather and storms of snow.
One day,before the arrival of January,the cunning blackbird collected so many food that it was never needed to go out and could stay warm in the nest for all 28days of the month.January started feeling teased and asked February for three of its days so when the blackbird had came out,January would have been in time to send on Earth cold and frost. When the blackbird came out sure that icy weather was ended, January sent a storm of snow that the bird was no longer able to reach its nest and it was forced to shelter in a chimney pot. The poor bird remained there for three days and when it came out, its white feathers had become dark because of the soot….since then it is said that all blackbirds born with black plumage.
Here at Borgo Grondaie we have a beautiful fire place….you may visit us and check our blackbirds!
An old proverb says that when theese days are really cold, spring is not so far away…. So we hope and for now we wish you good freezing !!!

Posted by:www.hotelsienaborgogrondaie.com
Hello everybody!  Hotel Siena Borgo Grondaie  wants to share with you a simple but very tasty recipe directly from the Tuscan tradition i.e. "pici or spaghetti with cheese and pepper" (from the book "I Quaderni di Cucina Senese" by Andrea Maestri).
First, we explain what is pici: it's nothing more than a kind of pasta like fat spaghetti made with flour and water. Mix the flour with warm water and a pinch of salt to make a paste quite firm. Remove from mixing small pieces of paste and extend them quickly with your hands until they take form of spaghetti. The diameter should be about 3 mm. However, for those who do not want to engage in the production of home-made pasta, we recommend using the spaghetti of a measure rather large.
For the sauce: after cooking pici or spaghetti in salted water, drain the pasta "al dente"( neither overdone nor uncooked) and add extra virgin olive oil, freshly ground black pepper, oregano, parmesan or pecorino and a spoon of cooking water. Mix well and … Enjoy your pasta !!!

Posted by: www.hotelsienaborgogrondaie.com
After the recipe for Ricciarelli, Hotel Siena Borgo Grondaie  is happy to share with you the recipe for Panforte, the symbol of pastry of  Siena. (From the book "I luoghi del gusto di Siena").
The history of Panforte refers back to medieval times when the trade of spices started and this cake can be considered a direct descendant of another kind of cake called " panpepato". The name of panforte (strong bread), refers to those sweets made from bread and honey, which were enriched with dried fruit and the moisture in it combined with sugars resulted in an acidic strong  taste. With the introduction of spices coming from Asia, the preservation of the gingerbread was improved and extended. The spices spread to monasteries where religious experts prepared the first spiced bread in their fully equipped pharmaceutical laboratories. Over time, the tradition of the production of panforte by pharmaceutical plants was strongly maintained so that, starting from 'nineteenth century, from the oldest pharmacies in Siena derive the confectionery industry today.
The recipe has remained almost unchanged over the centuries, with some nice variation that gave birth to the black panforte that includes cocoa and panforte Margherita with a more delicate taste and covered with powdered sugar instead of pepper; this one is dedicated to the Queen Margaret of Savoia on a visit to Siena in 1879.

Here's the recipe for 10 people:
- 60 g of flour
- 150 g of honey
- 100 g of sugar
- 200 g of peeled and lightly toasted nuts (almonds and hazelnuts)
- Spices: an abundant sprinkling of cinnamon, a pinch of pepper, a sprinkling of nutmeg
- 200 g of candied citron
- 100 g candied orange peel
Cook together sugar and honey with a little 'of water, when the sugar is melted add the candied fruit (cut into small cubes) and bring to a boiling point, then pour the mixture into a large bowl and add the flour, a little sugar, spices and chopped nuts. Mix well and pour the mixture into a round baking pan lined with flour. Bake for 20 minutes at 180 degrees. Allow to cool and dust the surface with icing sugar.
Posted by: www.hotelsienaborgogrondaie.com
At Hotel Siena Borgo Grondaie we like ricciarelli cookies, a typical Sienese delicacy made of almonds to be enjoyed especially during the Christmas season, but still very good all year round!

These delicious cookies seem to have origins in the Middle Ages, related to the production of marzipan that people from Siena certainly knew by the Crusaders returned from the East, and even the name seems to derive from "arricciatelli" to remember the shape of the slippers of the sultans of Orient.
This excellence got, in 2010, by the European Community , the IGP certification according to which the production phase must take place in a limited geographical area, in this case the territory of Siena.
Hoping to please all food lovers or just curious, here are the recipe for Ricciarelli (directly from the book "The places of taste in Siena"). Enjoy your cookies !!!
-          1 kg sweet almonds
-          A small amount of bitter almonds, according to taste.
-          1,5 kg sugar baking powder
-          Ammonium bicarbonate (3 g for every kg of dough) or baking powder (5 g for every kg of dough)
Grind the almonds, mix together all ingredients and knead until the paste is smooth and uniform. Weigh the paste and add baking powder as indicated. Shape into small lozenges and dust with powdered sugar. Bake on wafer or waxed paper for about 10 minutes in a 200°C oven.
Posted by: www.hotelsienaborgogrondaie.com