Hello everybody from Hotel Borgo Grondaie!
Springtime still doesn't arrive …. so….let's go looking for it !!!
Where and when? Just near Siena (about 1 hour by car), in Cetona, on April 24th and 25th, there will be an appointment with " Cetona in Fiore"( in Bloom), a very nice trade show dedicated to plants, flowers and garden tools.
The show, now in its eighteenth edition, shall take the following opening hours: form 9 a.m.to 8 p.m
Do not miss the chance to take part of this colorful and scented event !
Posted By: www.hotelsienaborgogrondaie.com
Likes
(

0

)
Dislikes
(

0

)
From April 12th to 14th, the town of Lastra a Signa (about 1 hour drive from Siena) will host an event not to be missed. The monumental park of Villa Bellosguardo, whose owner was the great tenor Enrico Caruso, will host the 3rd trade show dedicated to rare and ancient plants and the 2nd show of Italian saffron.
Over the three days it will also be possible to visit the park, the museum and the exhibition dedicated to  master Caruso.
The event will end with a concert by the pianist Marlene Fuochi.
Opening hours:
-Friday 3 p.m./8 p.m.
- Saturday and Sunday 10 a.m./8 p.m.
Admission € 3.00 (except Fridays. Free Admission)
Posted by: www.hotelsienaborgogrondaie.com
Likes
(

0

)
Dislikes
(

0

)
One thing that we always say to our clients is to follow their instinct because they are their best guide for their holidays in Siena. At Borgo Grondaie we love to give suggestions but to those who seem most curious and not at all frightened by the Italian roads and by our reckless way of driving, we suggest to become discoverers. This is because the beauty of a trip is the surprise,  not all can be planned and  written by others. You need to create your personal holiday in order to make it more emotional.
It may happen that suggestions comes from guests after their experience and discoveries as David, an Australian guest & friend, who suggested a tour in the Brunello area for a visit to Máté winery.
So my partner, my son and I enjoyed a day out in the wonderful Montalcino land. Paul, who knows wines from a professional point of view,  would have been  judge for what we were going to taste. I confess that I love wines and I love to drink wines but my palate is not so improved to the  harmonious mechanisms of wine.
At the arrival at Máté  we met Candice, owner and painter who bought the property twenty years ago together with her husband-writer, transforming their shelter-inspiration in beautiful winery.
I have written the word harmony in the title because this was the first impression entering the property. Their beautiful home surrounded by greenery and well-groomed gardens harmoniously blend into Tuscan ambiance, shows owners' respect to the place that has hosted them. Candice seems born here as she is at ease with the property. She showed us their little cellar, we spent time talking about  their vineyards and how the various types of soil presented inside their borders have influenced the choice of the various varieties apart from San Sangiovese grosso used for the production of Brunello.

Candice organized the tasting in her kitchen. The table ready with bottles, the fireplace, brick walls and the marble kitchen sink made the atmosphere surreal! Candice had prepared five of their wines. I was immediately struck by the beauty of the artistic labels while wine perfumes filled our glasses.

All wines tasted were of the highest level. They were harmonious, extremely pleasant with complex aromas, very attractive, surely loved by connoisseurs as by  simple wine lovers.
Do you want to discover more?  … Máté waits for you!
written by www.hotelsienaborgogrondaie.com
Likes
(

0

)
Dislikes
(

0

)
Yes! In Siena, we  celebrate the New Year also on March 25!
The modern calendar comes from Pope Gregory XIII 's will  who adopted a single rule for measuring time. Think about how it could be to use a different calendar in our world! Before 1582 in Siena, the New Year was celebrated on March 25 because it matched the day of the Annunciation to the Virgin Mary. On same date it took place the Feast of the ancient Hospital and  of its church which was dedicated to the Virgin of the Annunciation. For that day  Siena municipality  donated votive candles, presented barn workers  and expose religious relics in the Chapel of the Vow.
This year Siena celebrates "his" New Year on March 25 with the following program:
4.30 pm meeting of the historical parade and  city authorities in the church of SS. Annunziata
5 pm  procession from the church of SS. Announced to the Public Palace in Piazza del Campo
5.30 inside the Public Palace LECTIO MAGISTRALIS proclaimed by Cardinal Gianfranco Ravasi.
posted by www.hotelsienaborgogrondaie.com
Likes
(

0

)
Dislikes
(

0

)
Hi everybody!
As promised, Hotel Borgo Grondaie is going to reveal the sweet recipe for RICE FRITTERS!
Regarding our tradition in Siena, we use to eat these fritters during the Father's  Day……they are really delicious.
Here the recipe:
Cook the rice slowly for several hours adding a pinch of salt. As it cooks, it releases starch becoming very creamy. Add candied orange peel to sweeten the mixture, than mix with flour to thicken enough to hold its shape. Form balls of the rice mixture, fry in hot olive oil and dust freely with sugar when still hot.
Source: from  the Book: " I Luoghi  del Gusto a Siena "
Posted by: www.hotelsienaborgogrondaie.com
Likes
(

0

)
Dislikes
(

0

)
A special greeting to all daddies in the world from Hotel Siena Borgo Grondaie!
In Italy and in many other Catholic countries, Father's Day is celebrated on March 19th, the day dedicated to St. Joseph, Jesus 'father. Being a model of devoted husband and father, St. Joseph is also recognized as a protector of orphans,  poor and bachelors.
For Anglo-Saxon peoples this special day is celebrated on the third Sunday of June and has no religious facet. In some Monarchies Father's Day coincides with reigning king's birthday, while in other countries the date is associated with the celebration of men who had a significant role in the history (in Russia, for example, the festival coincides with the one dedicated to the defenders of the country).
Father's Day has pagan traditions origin. March 19th is a date  very close to spring equinox when, in ancient Rome, people dedicated Baccanali to Bacchus. The other tradition was to burn previous  harvest residual as a rite of purification. In some regions this tradition is still widespread.
Each region of our country celebrates St. Joseph with a typical sweet as bignè, donuts  or "zeppole"…. Siena have the tasty " frittelle di riso"(small sweet balls made of rice)…. but we'll talk about the recipe next time!
Source: Wikipedia
Posted by: www.hotelsienaborgogrondaie.com
Likes
(

0

)
Dislikes
(

0

)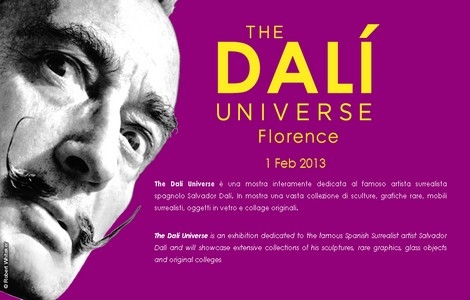 Hotel Siena Borgo Grondaie suggests an opportunity not to be missed!
In Florence, few miles from Siena, more precisely in Riccardi Palace, the exhibition "The Dali Universe" was recently inaugurated, thanks to which you can admire more than 100 works by the  most famous surrealist artist Salvador Dali.
The exhibition, dedicated to the Spanish master and open to the public until May 25th, is mainly focused on the theme of time and femininity, but thanks to this show some new artist's features come to light as the man fond of literature who reinterprets contemporary   works in a surrealist way but also great classical masterpieces as the Divine Comedy of Dante Alighieri or Boccaccio's Decameron.
Another  part of the exhibition is dedicated to the exploration of  the three-dimensional work that materializes in bronze sculptures, objects in glass and surrealist furniture.
Openings hours: all day from 9am to 7pm
Source: 1) Firenze Turismo  - 2) Vogue
Posted By: www.hotelsienaborgogrondaie.com
Likes
(

0

)
Dislikes
(

0

)
Hi! My name is Giulia, I study in a commercial school in Siena, and thanks to my school  I'm doing my first job experience at Hotel Siena Borgo Grondaie. During this week I have discovered a lot of new things about Siena that before ignored. Especially because Borgo Grondaie  is organizing a tour called #unterzociascuno . I have understood the importance of social media for hotels, because they represent a perfect showcase on internet and, I learnt to use pinterest and twitter. I have seen how a hotel management program works e.g. the check-in and check-out operations and reservations. My experience at Borgo Grondaie will be very useful as far as my languages studies in case I find a job in the hotel industry.
Likes
(

0

)
Dislikes
(

0

)
It's Carnival!
Today Hotel Siena Borgo Grondaie proposes you a typical recipe of Carnival time: delicious sweets called "Cenci" … yummi!!
In the Christian's  tradition Carnival marks the moment of celebration before Lent, a period marked by fasting and penance; and like any respectable holiday ….  it couldn't come without sweet!
Here is the recipe for the fabulous cenci: (from the book: I quaderni di cucina senese " Con Poco o Niente" by Andrea Maestri).
Make a dough enough firm with 1 egg, 1 tablespoon of sugar, 10 gr (2,38 tsp or 0,35 oz) of butter and 100 gr (0,43 cup or 3,53 oz) of flour. Work the mixture well and roll out the dough about 3 mm  ( 0,118 inches) high.
Cut the dough (you can use a small wheel for pasta or a jagged knife) into strips two fingers high and about 6/7 cm (2,75 inches) long.
Fry in hot oil, let cool and sprinkle with powdered sugar.
P.s.: you can add to the mix (as my grandmother did) some grated orange peel or a small glass of 'vin santo" (or dry white wine).
Posted by: www.hotelsienaborgogrondaie.com
Likes
(

0

)
Dislikes
(

0

)