Every year, during the month of February, very close to Siena takes place the beautiful Carnival of Foiano with the participation of adults and children coming from all the province.
If the departure is from Siena, you'll have to go in the direction of Perugia and exit at Foiano della Chiana.
Few days ago the first parades began after noon and the party was further enhanced by the organization of traditional dances of Ecuador. Who is writing this post is Gabriela, the new entry in Borgo Grondaie team. My origins are from Ecuador that is why this event make me feel proud and closer to my country.
Fonte: pagina Facebook Carnevale Foiano
The protagonists of the Carnival are the 4 groups: AZZURRI, BOMBOLO, NOTTAMBULI & RUSTICI.
To discover the origin of these Carnival groups we have to come back to the last century. During the year, each group works hard to build a parade float, they choose a float design and with an allegorical theme (freely chosen by each group).
To avoid wrong behaviour and external aid, the float construction takes place in the same building.
Fonte:  Carnevale Foiano
The artisans work with passion without receiving any compensation.
The floats parades are judged by a jury composed of 5 professionals: a designer, a painter, an art critic, a sculptor and a journalist.
An atmosphere of joy and happiness as the floats parades are passing by, many smiles and lots of confetti! An experience not to be missed!
Last Sunday of Carnival , the verdict will be read following the funeral of King Giocondo: the King of Carnival.
At this point of King Giocondo's Testament will be read in the Piazza: it was reading in rhyme by the President of the Carnival all positive and negative passed year events
Upcoming events: sunday 2nd & 9th of march 2014
Ticket Prices:
Ordinary: Euro 8,00
Children under 12: Free
Discount Family: 2 adults + 1 child = Euro 13,00
Group discount of more than 30 people: Euro 7,00
posted by: www.hotelsienaborgogrondaie.com
Likes
(

2

)
Dislikes
(

0

)
A week end trip to Val d'Orcia Tuscany – in the south part of Siena area -worth by sure a visit but if you don't have enough time to see all its territory just Pienza and Moltancino give you the idea of how beauty is this part of Tuscany. For those who have more time we suggest to follow the river Orcia till the castle of Rocca d'Orcia (also called Rocca di Tentennano), just a few meters away from the main town of Castiglione d'Orcia. The castle is open to public and  offers an incomparable view: The near mountain Monte Amiata, the castle of Radicofani , the town of Castiglione and the hot springs just on the opposite slope of the Val d'Orcia, the spa town of Bagno Vignoni.
The small hamlet of Rocca d'Orcia with its medieval fountains and churches from the 13th century makes you feel back into Medieval time. Here Saint Catherine of Siena learned reading and writing during their stay in 1378
The entrance fee for the castle is 3 euros and it also includes the entrance  to the small museum Sala d'Arte San Giovanni in the center of Castiglione d'Orcia. Here you can admire paintings of Simone Martini, Giovanni di Paolo and Vecchietta.
Museum and castle are always open on Saturdays and Sundays (10:00 to 13:00 / 16:00 to 19:00).
Have a nice tour!
Likes
(

0

)
Dislikes
(

0

)
A meeting that opens the new summer season : Siena Ultramarathon 2014. For those not involved in running an Ultramarathon is a race that exceeds the mandatory distance of 42,195 km of a marathon. Siena Ultramarathon will develops its 50,200 km route through some of the most beautiful Tuscan landscapes, with positive altitude of 600 meters. 15.600 km will be of dirt road with  breathtaking views . The departure will be from San Gimignano and the arrival in the Piazza del Campo in Siena .
The route of 50 km is dedicated to those who are trained for marathons or trial . The path will unfold in part on the ancient Via Francigena and will include 10 drinks' point. .
For non-marathon runners , it will be also organized two shorter paths: one  of 32 km. starting from Colle di Val d'Elsa and one of 18 km starting from Monteriggioni .A bus from Piazza del Campo is also organized to lead you at any departure points.
The occasion will be to live a day of sport surrounded by beautiful nature as those of  Sienese countryside and the arrival in Piazza del Campo, UNESCO World Heritage Site , will be thrilling .
It will be a race to remember!
I want to dedicate this post to a friend of Borgo Grondaie who like me loves running and has a special love for Siena… Wayne … what do you think about a run overseas?
For more information please check www.terredisienaultramarathon.it
posted by www.hotelsienaborgogrondaie.com
Likes
(

0

)
Dislikes
(

0

)
The culinary traditions in Siena manifest itself in all its glory at Christmas. If you are foodies Siena is the place for you.
Our culinary traditions say that  tables have to be particularly joyous, a beautiful centerpiece is a must (my mother had made one colored with vegetables to eat later with the new olive oil ). A volcano of colors: orange carrot, white Belgian salad, red radishes, green celeries, slices of fennels, small tomatoes and small fresh onions.
We started with a self service buffet organized by the fireplace. On the table there were salty delicious cakes with onion and bacon, croutons  with Porcini mushrooms, black croutons, small pieces  with pecorino cheese on.
The first course is as always the legendary PASTA AL FORNO or LASAGNA with handmade pasta and baked in a wood oven that my father lights on  a day before to reach the right temperature in order not to  burn the dishes. Just a note: when you are in Tuscany don't call it Lasagne alla Bolognese….


Then, as my tummy was not satisfied, the second course was roast meat cooked in the wood oven: rabbit, chicken, pigeon and lamb … all with roast potatoes!
If you are still not satisfied by my story, it's time for cakes. Firstly the Sienese sweets: Panpepato (Gingerbread) – which I like more than Panforte because it's more spicy -, Ricciarelli, Cantuccini (almond biscuits) perfect for Vinsanto wine (sweet wine). Then the typical Christmas sweet  called Panettone (which  my brother takes from Milan in a artisan bakery ). At the end homemade desserts that this year were Crostata with jam,  a soft chocolate cake and a Pinolata.
We drank a Chianti Classico Riserva  and a  2010th  Montecucco Riserva  and with desserts in Vin Santo and….. Grappa that someone drinks with the excuse that it's good for digestion.
I forgot ….the coffee that at my parents' house is made only with Moka .
A busy day for the jaws but this is just the beginning because the night of 25th and 26th  we go on celebrating Christmas with relatives and friends with boiled meat and Home made green sauce, anchovy sauce and fruits mustard .
So a marathon …….
And you? What about your Christmas menu? Which is the best dish of the area where you live ?
Likes
(

0

)
Dislikes
(

0

)

Turisti per casa is the name of the guided themed  tours  that every second and fourth Sunday of the month, until February  2014 will take place in the Pinacoteca di Siena at 11 am, just before lunch . Why not to tale advantage from 20% discount that some restaurants  recognize if you show the Pinacoteca ticket
———————

Borgo Grondaie has a special love for  this museum ,  that is why we have  chosen it as the venue for the 2013 edition of the Digital Invasions  Event. In this regard there is this very interesting  post written by Dominique Papi Cipriani, a professional photographer known  at the time of the  Digital Invasion, who recounts with sincere gratitude the experience of that day.
We join with enthusiasm  this initiative, which has allowed us to investigate the origins of the  Pinacoteca collection  and become aware of curiosities related to certain works such as the Santa Petronilla Altarpiece by Ambrogio Lorenzetti and the dramatic story of the beautiful Ghismunda from Bernardino Mei .
The event is organized by the guides of Siena (Federagit) with the support of Confesercenti of Siena.
Therefore it's a pleasure to  share with you  the calendar of next visits,  time and topics and invite you to participate because it is really worth it.
Likes
(

0

)
Dislikes
(

0

)
Never tried a bruschetta with new olive oil ? If you've never tasted one,  ​​a visit to Tuscany in late November-December can not be missed in oder to see Olives Harvest. For olive oil, as for wine, vintages are never the same . Climate , water and soil influence aroma and flavor . Some people like to put garlic on bread but I love to taste the olive oil as it is. Living the oil means take care of  the plant throughout the year, to work hard to peak the olives and get excited to see them squeeze at the oil mill. The olive harvest is almost completely manual.  We strech a large circular tarpaulin under the olive tree , and then the olives are harvested by beating the high branches and combing the lower branches . The secret for a good oil is to take olives to the mill after a few days from the harvest  inj order to avoid  mold development  that could adversely affect the flavor of the oil . This is why at Borgo Grondaie, like all those who have many olive trees, need  more trips to the mill. Any excuse is good  to eat a fantastic bruschetta !
The bruschetta is definitely the best way to enjoy the new oil.  Remember that for the bruschetta you need  a kind of  bread with  consistent guts. The best are definitely the bread baked in a wood oven and than…..lot of olive oil on!   
Do you know that it is possible to make fantastic low calories breakfast cakes using olive oil? If you substitute butter  with olive oil and yogurt can get healthy and tasty desserts.
The recipe for the realization that I propose is from the site http://www.lacucinaimperfetta.com
Ciambella all'olio extra vergine di oliva
Ingredients for a cake of 24 cm in diameter
340 gr. flour

200 gr. sugar

125 gr. white yogurt

120 gr. olive oil

4 eggs

grated rind of 1 lemon1

1 teaspoon

of baking powder

icing sugar

Difficulty: Easy
Preparation time: 10 minutes
Cooking time: 30 minutes
Total time: 40 minutes

Put in a large bowl or in that of the mixer eggs with sugar and mount them together until the mixture is light and fluffy (if you don't use a mixer use the electric whisk).
Add the oil and continue to work the mixture with the whisk.
Add yogurt
and the flour where you will have joined the baking powder.
Also add the lemon zest and mix well with a wooden spoon.
On awell-oiled ring mold, pour  the mixture in.      
 Bake at 180 degrees and bake for about 30 minutes or until the cake will not become golden brown (do the toothpick test).
Let the cake cool down, unmold and sprinkle with icing sugar!
I could tell you a thousand other ways to use the extra virgin olive oil, but I prefer you to come to find out in the land of Tuscany and we hope at Borgo Grondaie


Likes
(

0

)
Dislikes
(

0

)
On November 11th , we celebrate St. Martin, saint and protector of many Italian municipalities and protector of hoteliers, too!
The story goes that at this time in Italy and also in Europe  a strange phenomenon occurs called  the Summer of St. Martin a period characterized by a warm climate and sunny days.
This year Siena has had many sunny days in October with temperatures even over 20 degrees. We are happy that the Summer of Saint Martin will extend this fantastic autumn.
As tradition says, the Summer of Saint Martin lasts 3 days and a little bit ….. do you think is a legend? The climatological cards over 50 years give reason to St. Martin!
Likes
(

0

)
Dislikes
(

0

)
Hats off to Siena guides association always very attentive to enhancing and promoting  Siena territory.
From November they will start a series of activities to which Borgo Grondaie would love to give prominence, with the hope that citizens and visitors appreciate the wonderful initiatives.
The first event  I want to point out, perhaps because as a mother I feel the need for activities to carry out with my son, it's remarkable.  It is to make known the floor of the Cathedral of Siena to children through the story depicted in the beautiful marble and the discovery of the characters shown.
The event is scheduled for Saturday, November 9th at 15:00  meeting point the ticket office of the Cathedral of Siena. The cost is 6 Euro per child and one adult per child has free entrance.
For more information please contact the authorized guides of Siena through their website www.guidesiena.it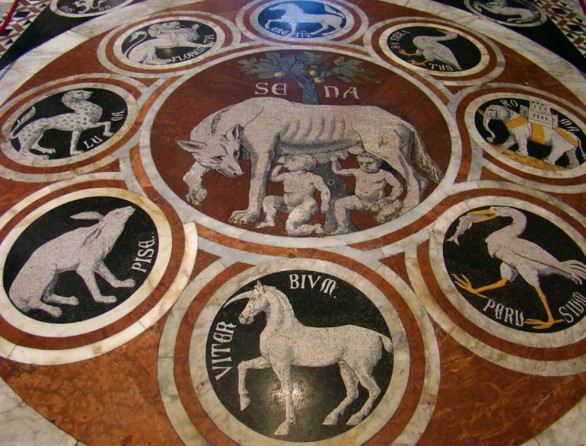 Likes
(

0

)
Dislikes
(

0

)
The Tarot Garden is an art park developed in the late seventies by the French artist Niki de Saint Phalle, populated by statues inspired by the shapes of the Tarots. Definitely inspired by the beautiful park Guell in Barcelona, Niki de Saint Phalle, with this fantastic garden, realizes the magical and spiritual dream of her life, to create giant sculptures, high around 12/15 meters, full of symbolic and esoteric meanings. Glittering sculptures, which seem to come from a storybook, built of steel and concrete, covered with mosaics in fine glass and ceramics. Many, from all over the world have already traveled this path of imagination, a place where not only nature and art meet, but that also remains suspended without space or time … ..
 
The park is located on the southern side of the Garavicchio hill near Pescia Fiorentina, an hamlet close to Capalbio (GR). It is about 1 ½ hours from Siena and being located between the coastal road  and inland hills, it is perfect solution for those who want to spend a pleasant day taking a nice break from the beach.
 
The park is open every day until October 15th  from 2:30 p.m to 7:30 p.m.
We visited this wonderful park and here same photos:
 
For more information contact Hotel Borgo Grondaie
Posted by: www.hotelsienaborgogrondaie.com
Likes
(

0

)
Dislikes
(

0

)
By chance I have taken part in an initiative, which is called Digital Invasion  #invasionidigitali, for motivating  people to enter  into the places of art all across Italy, people with cameras or even mobile phones, to shoot photos, freely, without flash, and then to put them up on social networks, like Twitter, Facebook, Instagram.
A procedure of sharing artistic images, with the speed of today's times, to make them accessible to others, maybe only an hour after having seen them, details of a painting or a glimpse of a church, a garden and a sculpture,  captured by visitors in an all-embracing bewilderment.
Once disbanded the sanctity of the Pinacoteca of Siena and the works  within, we  wander around in search of an immediate grandeur, inebriated by a bright largeness of enjoyment  like an undisciplined school-class on a tour through the silent halls.
This is invasionidigitali!
With this walk, together with others- really too few for a such  unexpected opportunity- I proceed through the halls. The organizers have provided us a descriptive text in advance , obviously through email, with the sequences and the artists.
Surprised  by this possibility and with about three hours at my disposal I get ready to observe the paintings with a different look and I cheer  up from the overcast and tedious day outside.
Being in ignorance of  art and  old masters, I approach the paintings that attract me more and that intrigue me because of interesting images and  perspectives.
Madonna' gazes so melancholic and intense enchants me. In the folds of a painting I catch sight of more figures, main characters in that component. On the predella of famous paintings there are whole stories told, like small worlds standing on their own in a wider landscape. Some bishops inspect me despotically next to gentle angels. The fixedness of their gazes offers to all visitors a recall of something different, a reflection which, however,  we hold difficulties, because nearby there is another painting which in turn gives a new demand. Among  the astonishment and the incomprehension and the admiration for such perfection and beauty, we  remain  struck and almost embarrassed  for not being able to detach our look.
The work presented here focuses on the peculiarity of the details, sections of paintings from which the color has been taken out for a pictorial reading without the amplifications of pigments. A photographic claim in light of the magnificence of these paintings, where gold is the main actor next to the carmine-red, the vermillion, the faint colors of rosy reflections in religious worlds, which tell the scenes of the holy family with stylized landscapes in the distance, locations of Siena, folks from times ago.
In this syndrome of emotional contradictions between what I see and what I feel, I think about  historians  who know these objects d'art,  their history. They have deeply studied the old masters  and  their peculiarities and first of all their distinctive trait. I admire these people, who pass their lives following their own itineraries with commitment and strictness and often lead them up to important discoveries for the understanding of the painter, to that tile which was missing for the full and definitive assignment of a master-piece, and who continue to research, analyse, study, examine pictures, read books and essays, always directed towards the appropriate settlement.
I deem myself fortunate for having lived in a family, where art was at home at all levels, and for have been able to move around easily amidst art-works of importance without anybody revealing or explaining anything to me. The paintings were there and I was there in front of them. This was a great gift that I have received and also in this way my photographical analysis of the sight was born.
Pick up what you have seen and return it, interpreted in a photography.
The Pinacoteca di  of Siena with its important works and with the stillness of its halls has allowed me to relive intensely this freedom of enjoyment.
I vividly thank those who have organized this visit, which has provided an important service for communicating art, in the most contemporary and immediate aspects, in spite of not being backed up by any historical and artistic research, it has allowed many people to get into contact with a reality that surrounds us and which remains invisible for most.
Likes
(

0

)
Dislikes
(

0

)